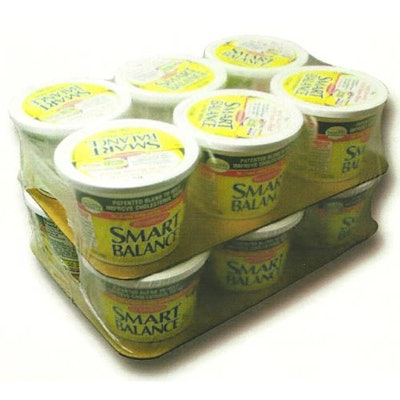 In switching its secondary packaging from traditional regular slotted containers (RSCs) to
Delkor Systems
' Spot-Pak® "pad-shrink" system,
Smart Balance, Inc
. is seeing sizable reductions in material waste, energy use, and greenhouse gas emissions (GHGs). That's according to results of a Life-Cycle Analysis revealed last week at the
Worldwide Food Expo
in Chicago. According to Peter Fox, Delkor director of sales, who spoke at the show's Sustainability Pavilion, "The LCA takes concepts and puts them into a real-life context."
The Spot-Pak solution combines three materials to form a stable shipping bundle: a flat corrugated base; a hot-melt adhesive that temporarily secures primary containers to the pad during packing; and a low-cost polyethylene shrink film that encapsulates the assembled package. According to Delkor, the system was developed to reduce packaging material costs and to automate the production of secondary packaging bundles.
Results say Spot-Pak is more sustainable
In a study of the Spot-Pak versus RSCs,
Allied Development Corp.
used its SavvyPack® LCA software system to compare the environmental impact of each solution when used to protect 15-oz, 408-style tapered plastic cups of Smart Balance buttery spread during transportation. One of the key metrics Allied calculated was the amount of energy used to manufacture, warehouse, ship, and dispose of the two finished packaging systems and the raw materials used to make them.
When both secondary packaging systems are used to ship an annual volume of 5.5 million shippers of Smart Balance, the study found that the Spot-Pak:
• Generates 61% (975 tons) less material that ends up either being recycled or in a landfill
• Consumes 49% (24,570,000 megajoules) less energy due primarily to the fact that the Spot-Pak system uses shrink film instead of the heavier materials that make up corrugated cartons
• Produces 44% (723 tons) less GHGs due to lightier materials and less raw material packaging, as well as lower energy consumption during transportation and package manufacturing
• Requires 5% fewer truckload shipments to retail distribution (1307 vs. 1371) because of the Spot-Pak's systems lower weight and greater pallet density.
Fox added that the Spot-Pak system typically provides an operational ROI in 12 to 18 months, and is a tried-and-true system, with nearly 200 system installed in the U.S.
As for cost, Fox noted that the study indicates a 50% cost reduction in materials, with the Spot-Pak priced at approximately 13 cents per load versus 31 cents for an RSC.