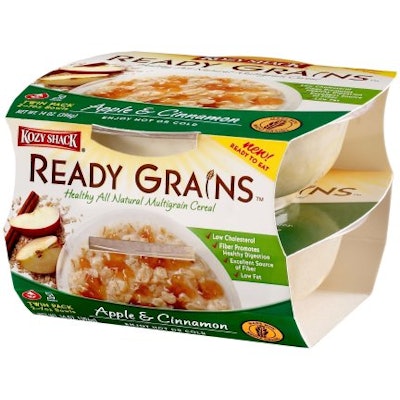 Premixed with low-fat milk to allow for consumption straight from a single-serve container, Kozy Shack's new Ready Grains multigrain cereal relies on a proprietary slow kettle cooking and filling process to keep product fresh and firm in the dairy case. Based in Hicksville, NY, Kozy Shack is best known for its puddings and flans, which use the same technology to produce the soft, dessert products.
"The innovative cereal product was a logical expansion for the brand," says Janice McCarthy, Kozy Shack vice president of marketing. "Traditional oatmeal consumers and Kozy Shack pudding customers have expressed excitement about this new, complete breakfast alternative, and non-oatmeal consumers are intrigued to try the product."
Microwavability offers hot option
Introduced in September, Ready Grains in four flavor varieties is targeted at on-the-go consumers, aged 18 to 45, who are trying to fit a nutritious meal into their busy day, McCarthy explains. The all-natural cereal is packed in a 7-oz white polypropylene bowl from
Highland Plastics
(
www.hiplas.com
). The container comes with a peelable film lidstock and is microwave-friendly, allowing consumers to heat the cereal for a warm breakfast option.
Bowls are sold at retail in two-packs, held together by a paperboard sleeve decorated with images of the prepared cereal and its fresh flavor ingredients.
Sterling Brands
(
www.sterlingbrands.com
) designed the graphics, which were selected to convey the image of a "healthy, good-tasting breakfast," says McCarthy.
The cereal twin-pack is available in supermarkets and mass merchandise stores across the U.S. for $3.99. When asked whether the convenience of Ready Grains trumps cost considerations, even in today's economy, McCarthy says: "For the consumers we are targeting, the two concepts are not mutually exclusive. They are willing to pay a premium price for healthy, nutritious, and good-tasting foods."