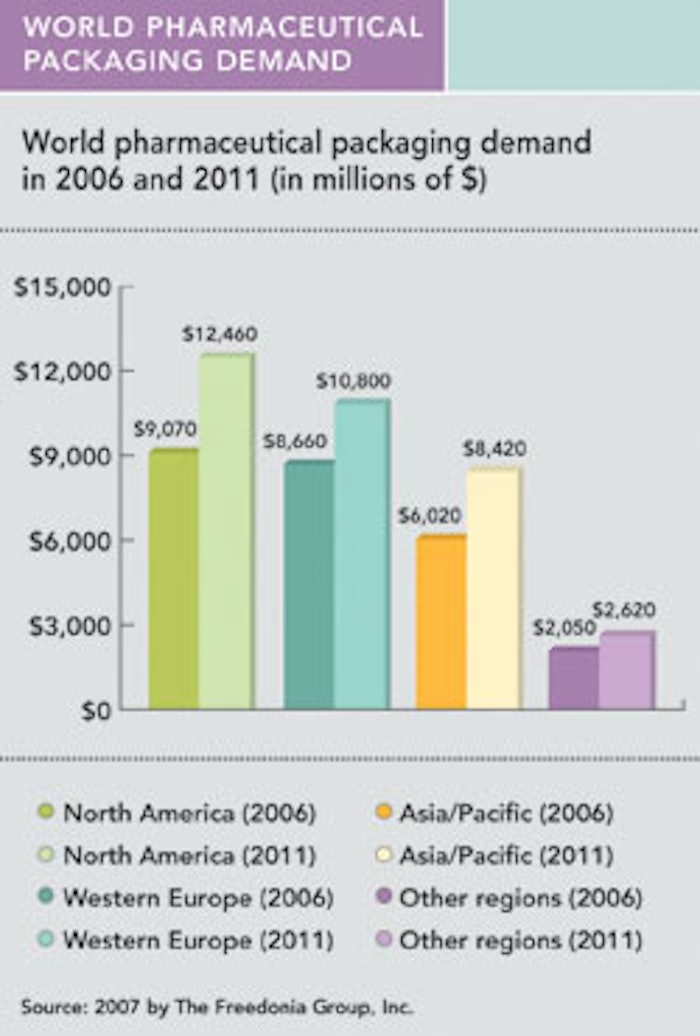 "Yesterday, all our troubles seemed so far away, now it looks as though they're here to stay." Of course, the lyrics to the classic song by The Beatles weren't about today's life sciences packaging challenges, but they're applicable nevertheless.
Not long ago, pharmaceutical companies enjoyed lengthy patent protection on their drugs. They could focus their packaging lines on speed and throughput in large-scale commercial runs. But as many of these drug patents expire, competition from generics erodes some of the profitability of branded drug manufacturers. That's causing these firms to look to their packaging operations to save money through processes such as lean manufacturing, overall equipment effectiveness, and Six Sigma.
Personalized medicine
To further complicate matters, packaging machinery and materials suppliers are introducing equipment and packages designed for smaller quantities, even down to filling orders for individual patients. Personalized medicine, seemingly a rather futuristic concept, is drawing much closer. That means future packaging lines will need to accommodate shorter runs and permit quicker changeovers, a trend that's been taking shape for years, and not only in the pharmaceutical industry. This bodes well for contract packagers.
Although the medical device sector has traditionally lagged behind pharmaceuticals, it's being nudged forward from its comfort zone as well. At the Medical Device & Manufacturing show in Anaheim in January, and again at HealthPack 2008 in San Antonio, leaders in the medical device packaging space recognized that medical devices are more frequently incorporating drugs and biologics as medical treatments become more advanced and complex. Device makers can work with the FDA's Office of Combination Products to determine which FDA Center to work with to launch these products.
Advanced biologics/biopharmaceutical treatments pack considerable potential for patient healthcare. Yet these fragile products, which include tissues, proteins, and blood therapies, present considerable packaging challenges. Packaging biologics may involve aseptic processes, restricted access barrier systems, and/or isolators, not to mention sophisticated materials.
Biopharmaceuticals are especially sensitive to distribution rigors, handling, and often temperature, humidity, and light. That's putting the spotlight on the distribution "cold chain," where advances in shippers, materials, time-temperature indicators continue, as evidenced at recent cold chain packaging and distribution events. And couriers are improving their transportation vehicles to better safeguard these expensive products.
Economic factors
Of course, economic factors continue to shape the landscape as well. In every sector within the life sciences community, there's an emphasis on cutting costs. Packaging line efficiency can help in this regard. To this editor, a real challenge exists in trying to drive costs out of packaging materials. If greater barrier properties are necessary to protect and maintain advanced drugs, biologics, medical devices, and combinations of them, those films, trays, and packaging materials will likely cost more. This dichotomy is evident when you listen to nurses discuss the challenges they face with packages in the hospital and operating room environments. They want easy-opening features, more readable labels, greater product visibility through the pack, trays that are easy to grip, etc. Of course, packaging vendors can supply all of these benefits, but they add to the cost at a time when hospital administrators are trying to reduce their expenditures.
Increasing competition, mergers and acquisitions, and matters of reimbursement are broad-scale issues that factor into the life sciences equation. Manufacturers now operate in a truly growing global market (as demonstrated in the accompanying chart), often acquiring raw materials from lower-cost producers such as China. As countries such as China see their economies grow, companies are beginning to outsource some of their functions to areas of even cheaper labor, such as Vietnam.
U.S. firms looking to expand their business face many challenges that stretch beyond language and cultural barriers. Companies often must address international standards and regulations, develop bilingual copy, thwart the growing influence of counterfeiting around the globe through overt and covert technologies, and develop relationships and partnerships in those regions they conduct business.
Interestingly, the workforce is becoming more mobile, and it's not limited to workers moving from one U.S. facility to another. At the Pharmaceutical Packaging Forum held in March in Philadelphia, international panelist Theodore Iliopoulos, originally from Greece, serves as the vp of operations for the pharmaceutical firm Polpharma Group in Poland. He quipped that his "very career is an example of globalization taking place."
Yesterday is "a place to hide away." Today delivers ample challenges to the healthcare packaging community, to be sure, but as treatment advances offer patients greater promise, there will be rewards for companies who can efficiently and economically respond to customer demand throughout the supply chain.
Companies in this article