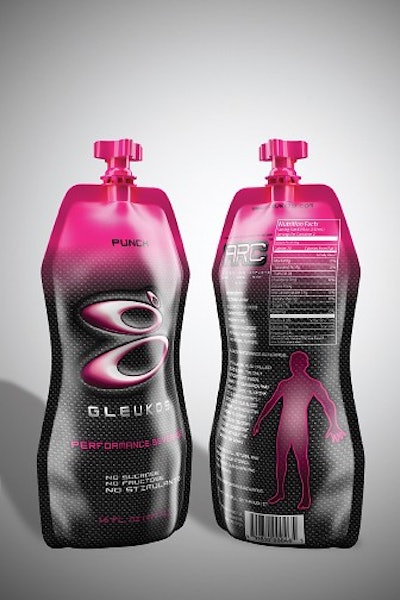 Gleukos' formula is touted as "a revolution in energy replenishment and hydration." It utilizes the body's direct source of fuel, glucose, to quicken replenishment times and eliminate energy dips associated with other sports drinks. To pack this innovative beverage, the company decided they needed a unique package to help market it.
"Everything about our project was unique and everything we do is about providing a better product for athletes," explains Mark Jensen, Gleukos, Inc., founder. "We wanted a distinct, new shape for Gleukos. The package had to be functional and have a great appearance. We also wanted great hand feel."
"Packaging for the competition in this category is big and bulky. We wanted a slender-looking, lightweight alternative," Jensen says. "We also feel that graphics are everything. The ability for the package to showcase what is inside the pouch is an important element."
The tall, hourglass-shaped standup pouch is easy to hold and can mold to the body when placed in an athletic apparel pocket. The pouch is 80 percent lighter and takes up 50 percent less space than its rigid packaging competitors, Jensen says.
The dispensing feature is a three-piece design that consists of a polyethylene base fitment with a spout and a silicone valve, topped off by a Seaquist Closures' EZ Turn Cap. The Smart Spout feature allows the product to be dispensed in two different ways: the flexible pouch can be squeezed to evacuate the product through the spout, or the consumer can place their lips around the spout and draw the liquid through the valve. If the pouch is inverted, the valve holds the product inside the pouch with no spills, leaks, or drips. The valve also keeps out air and contaminants from entering.
Companies in this article