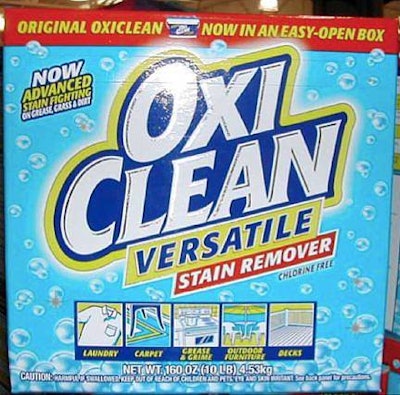 In 2004, Sam's Club asked Orange Glo Intl., manufacturer of OxiClean stain remover, to update and improve its product packaging. The company worked with Graphic Packaging Intl.
GPI's Composipac[tm] packaging system was selected. Composipac is a patented process that reverse-prints graphics onto clear film that's laminated to paperboard stock. The result, as seen in the picture, is an eye-catching package.
Jon-Paul Genest, Orange Glo's packaging development manager, said "Since introducing our OxiClean general household product in 2002, we have marketed our 'club store' sizes in a plastic pail with a plastic handle, which required a large amount of secondary packaging. Then late last year, one of our largest customers, SAM's Club, asked Orange Glo to 'freshen' our look and drive more desirable sales levels. We felt that the only way to achieve this would be to improve consumer appeal by eliminating the secondary packaging that was blocking consumer visibility of the product on the retailer's floor. The message was clear: redesign the product package so it will present more effectively without compromising the durability and ease of transport—key benefits of the pail."
The new package has these important features:
1. Handle—it has a "wilton' handle so consumers can easily carry the box.
2. Face panel—The Composipac[tm] system as well as graphic design work crated a package that cuases consumers to "stop, pause, and purchase." The package provides more eye appeal especially in dimly lit club locations.
3. Secondary packaging—All secondary packaging has been eliminated. This helps create a banner display for the product as there is no secondary packaging covering the primary packaging.
Packaging Insights debuts a regular feature on the latest club store packaging, courtesy of HHC Publishing, Inc., publishers of Warehouse Club Focus. This is from the July 13 issue of WCF
Companies in this article
Videos from Graphic Packaging Intl.