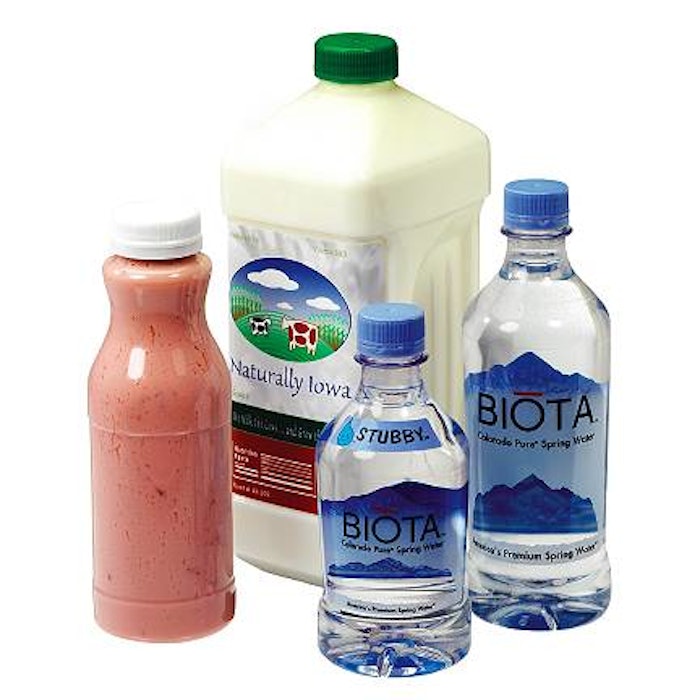 My fellow editors and I weren't the only ones scratching our heads over the fact that water could be filled and sold in biodegradable bottles. For one thing, the bottles from BIOTA Brands of America—stretch-blow-molded from preforms injection-molded of NatureWorks[tm] polylactide (PLA) from Cargill-Dow—were as clear and substantial as their PET counterparts.
In fact, they are even more substantial. BIOTA founder David Zutler wanted the bottles to have a premium feel, so he had them made 25% heavier than PET bottles. Zutler says PET bottles are so thin-walled they "crinkle." BIOTA debuted in October in limited rollout in Wild Oats stores in CO and CA.
Needless to say, the biodegradable—more precisely, commercially compostable—bottles that created a splash with us are also doing the same elsewhere.
Even Steve Mojo, executive director of the New York City-based Biodegradable Products Institute, seems to have been caught off-guard by the BIOTA introduction.
"I wasn't aware that NatureWorks PLA could be used in these kinds of applications," he said during a mid-November interview with Packaging Insights. "Sounds as if Zutler has helped guide a technical breakthrough. BIOTA's bottle is the beginning of a trend to greater use of compostable packaging, packaging that biodegrades quickly and safely in a commercial composting facility. It's a step forward for biodegradable packaging."
The BIOTA bottles are the first water bottles approved by the BPI, and carry the BPI's designation. They meet ASTM 6400 specifications that defines the bottles' biodegradability in a commercial composting facility.
"Obtaining BPI's approval is a critical part of our marketing efforts," says Zutler.
Milking cows and growing bottles
BIOTA isn't the latest introduction. Barely is the ink dry on that story, which ran in Packaging World's December issue, when we learned during Pack Expo International in November that Naturally Iowa Dairy, Clarinda, IA, is introducing natural and organic milk in bottles blow molded of PLA. The products' tagline: "We milk the cows and grow the bottles." The PLA-bottled milk in a half-gallon "grip" bottle is expected to debut by the end of January.
Naturally Iowa is working through Cargill-Dow to develop single-serve bottles, too.
Naturally Iowa President Bill Horner credits NatureWorks PLA for helping its brand differentiate through packaging. "The natural bottle is our hook," he says. "Without it, we would only have half the story."
The biodegradable payoff
Horner says the payoff from using NatureWorks PLA comes not only in consumer visibility and sales, but helping overcome the distribution challenges of a smaller company. "We're a 'David' up against giants with bigger marketing budgets and distribution. But we're getting tremendous attention for pairing our natural milk products with bottles that are just as natural," he says.
"Iowa is in a great position to show how these materials can begin to set the stage for more sustainable packaging," Mojo comments.
Is this trend toward more sustainable packaging sustainable?
"Not only are there sustainability benefits in manufacturing versus using petroleum-based products, there are also disposal benefits," explains Mojo. "They can be collected through traditional recycling programs or they can be composted. Marketers are recognizing opportunities for these materials."
More sustainable trends
Other drivers that are pushing biodegradable materials, according to Mojo, include growth in composting infrastructure, especially for food scraps. Governmental drivers via legislation, such as in California, are helping build a market for these kinds of materials, he says. Also, an increase in sporting events and festivals desiring to become "zero waste" events is propelling interest and use of such materials.
"We've come a long way in the 15 years I've been involved with these kinds of products," says Mojo, who has been with BPI since 1999.
"The pace has increased in the past two-to-three years. End users can more easily find and confirm that materials are biodegradable and compostable. I see an increasing amount of interest from major film converters set to debut products in the next three to six months. In 2005, you will see at least two major consumer products carrying the BPI symbol for new forms of [sustainable] packaging and related consumer products available at regular retail outlets."
Companies in this article