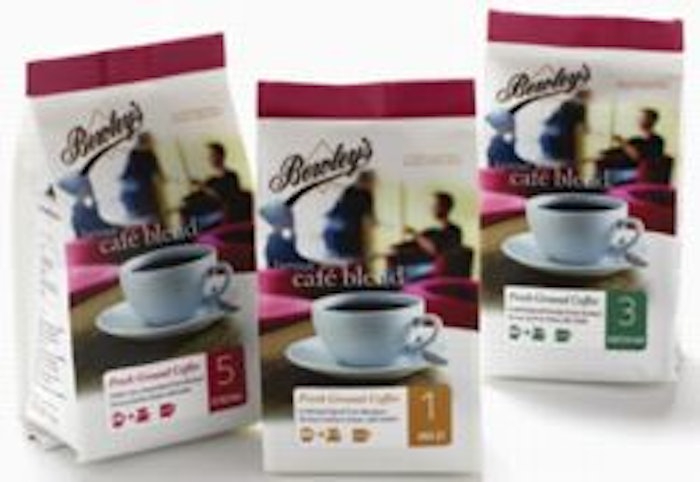 Mark Reidy, head of manufacturing of Bewley's Ltd. in Dublin, Ireland, discloses an innovation that is as liberating for him as it is for his bagged coffee. Cost-saving technology from Ampac replaces the one-way gas valves commonly affixed to coffee packaging to expel carbon dioxide. The technology creates a one-way channel in the seal area during the form/fill/eal packaging of coffee. It also gives Bewley's a great deal of newfound flexibility in the flexible films that it chooses. This gives Reidy peace of mind by greatly increasing the number of vendors from whom he can buy packaging materials. Yet he expects U.S. coffee packers may be reluctant, if not afraid of the technology.
A hesitant U.S. market?
"The packaging industry in United States and Europe is skeptical of the Ampac system because it is so different," asserts Reidy. "It throws away the 'rule book'.
"Yet it also does something fundamental that we like. Packaging vendors for years have offered coffee producers what they believe are the solutions to keep coffee fresh. The companies have told us 'this is what you have to use to keep your coffee fresh, and this is what you pay.' It's been a nightmare. I was tied into a particular supplier who provided me with a particular structure to suit a particular system; I had very, very little room to maneuver.
Machinery bandwagon
"And the machine builders got on the bandwagon, too, because they could charge a premium for valve applicators, special forming shoulders, and film tracking equipment.
"Ampac has given the coffee producer a freedom to choose a system outside of the excepted constraints for packing fresh coffee. This is a fundamental change for the coffee system and packaging industry, which has until now been charged a 'premium' for its solutions.
"What Ampac's system does for me is flexible and reasonable, and allows me to buy my packaging materials from wherever I want to buy it, whether that be from central Europe or the Middle East. I negotiate with people for my materials and fix my pricing--and then get onto what I'm supposed to be doing, and that's packing coffee."