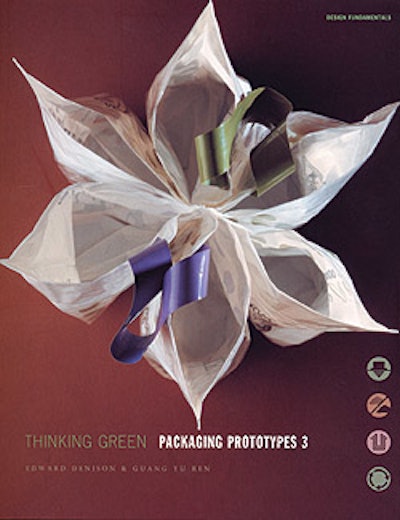 Thinking Green: Packaging Prototypes 3, by designers Edward Denison and Guang Yu Ren, is the third book in the Design Fundamentals series and follows Packaging Prototypes and Packaging Prototypes 2: Closures. It's good to see that the publisher, Rockport Publishers (Gloucester, MA), holds green, or environmentally friendly packaging, to high standards. It's also a subject that's hard to get hold of, so the designer-authors should be credited with a pretty ambitious undertaking. That's both pretty, as in the book's stylish look and feel, and ambitious, as in the global terrain it covers. With few flaws, the book artfully melds form and function into a highly graphic overview of green packaging.
Even before it's opened, you can see and feel that the book has shelf appeal: The matte-finish cover depicts an elegant, highly pleasing "flower" that turns out to be made of reusable shopping bags, so you can judge this book by its cover.
'Trashy' photo is perfect
By the time one gets to the opening page, the full-page color photo of a garbage dump is jarring. It's a strong visual cue that this book, pretty pictures and all, takes seriously the business of green packaging.
The book's initial sections offer historical and topical summaries, yet pages tend to be text heavy and some images are too small. Highlights include visual schematics of major infrastructures such as recycling and refilling. These are well done, a hallmark of the designer's deft touch. Case studies include end users such as Swiss retailer Migros as well as suppliers like FastTrack Systems' void fill products used at Amway. Coverage is balanced; for example, there's criticism of McDonald's sponsorship of the Sydney 2000 Olympics.
A green checklist, though just a single page, is useful. The final of more than a dozen tips: "Ask yourself what the world would be like if everyone used this package."
That's followed by a bibliography, sections on legislation, and a list of useful addresses that includes Web addresses.
The book concludes with a just-the-right-length index, which covers topics from Aborigines to Yves, Rocher (cosmetics). The Aborigines are here because they're regarded as "perhaps the true masters of sustainable living." Can't argue with a testimonial of a people who have survived 40ꯠ years.
At the heart of the book are the designs, nearly all done as spreads, a tasteful color image on one side, drawing and caption on the facing page. The 56 examples seem Euro-centered. Although that may set Americans into a defensive mindset, it does expose us to some unfamiliar packaging, which is refreshing and good. Perhaps this "slight" comes simply because the United States isn't a hotbed of world-class green packaging.
Examples include a literal leaf plate—and what could be greener?—to a tablet dispenser, to a square food can, to a fiberboard pallet, to a biodegradable rubbish bag. The latter looks like a soft-red hued tissue rose. I doubt whether a trash bag has ever looked prettier.
The images are artfully photographed, though a few are pushed so far into "artsy" that the image is for art's sake only, such as the extreme closeup of the single-use grease pouch. Readers must visualize what the pouch looks like.
The images are accompanied by line art drawings. A well-thought out touch is that a number of these use dotted lines to illustrate hidden recesses or how the contents, such as a bottle, would be held. The drawings complement the photos perfectly.
Icon keys are included for each package. Some aren't intuitive. However, there's a one-page key that shows what all 15 keys represent. They are classed in three categories: green for use or post-use characteristics, red for design characteristics, and brown for manufacturing characteristics. Examples of each are biodegradable, space saving, and reduced energy in production, respectively. Unfortunately, the choice of muted colors means the reds and browns are barely distinguishable.
Captions summarize what the package is about, its use and benefits, and the material used is noted via an abbreviated code. While you'll instantly know most of those, like PP (polypropylene) and AL (Aluminum), a few will stump you at first, like CtB (cartonboard) and stw (wheat starch).
Despite their content, the captions are also the book's biggest flaw: Not only is the font smallish, they are printed vertically. You must turn the book 90° clockwise to read each one. I dislike books that make me work like that. This format characterizes catalogs of museum or gallery exhibits, but here the designer-authors' touch goes amiss.
The book is highly recommended for package designers, of course, as well as marketers—there's some intriguingly creative designs shown and explained.
For most professionals in packaging, this isn't must reading. But for those with any kind of environmental bent, professional or personal, there's a lot to learn from these pages. Thinking Green offers wonderful images as eye candy for even casual reading ... and it will likely draw you right in, rightfully so, because the book deserves to be read, too.
Thinking Green: Packaging Prototypes 3
Authors: Edward Denison and Guang Yu Ren
Specifications:
Pages: 160
Size: 9" x 11" x ½''
Price: $45
Published: Nov. 2001
Pluses:
Global view.
Coffee-table quality.
Artsy imagery.
Minuses:
Annoying captions.
Icons a bit muddled.
Bottom line: A 'green' thumb's up.
Companies in this article