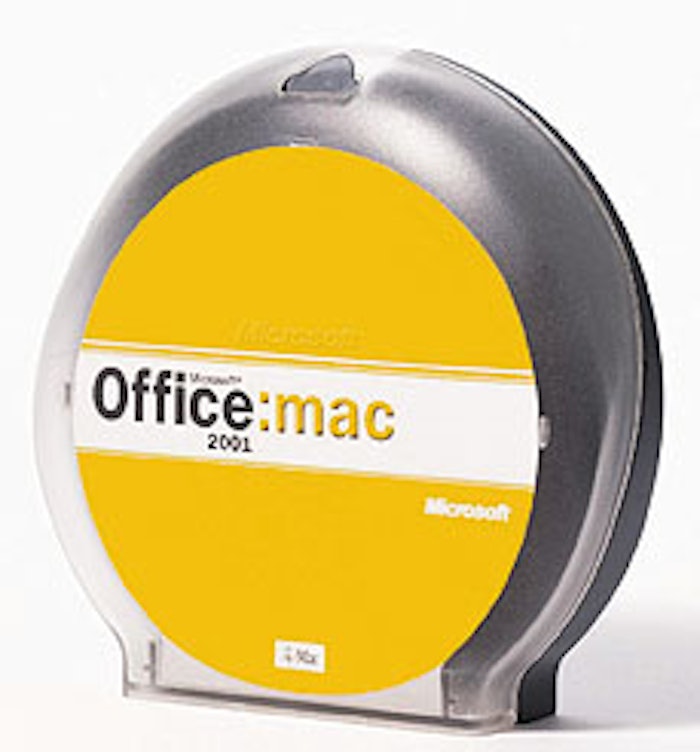 The packaging supplied by Radius Product Development (Clinton, MA) comprises two snap-together halves. The translucent front half is injection-molded of styrene acrylonitrile. The light gray-colored back is injection-molded of polycarbonate from 100% post-consumer recycled content (PCRC). The PCRC is sourced from CD discs and 5-gal water bottles. A latch on the back half locks onto an opening on the top edge of the front half to make it reclosable.
A printed paperboard disc inside the case provides the front graphics; backside graphics are printed on a second paperboard disc that folds along the exterior base of the clamshell. The package is protected with a clear shrink film that fully encloses the clamshell. The asymmetric case is approximately 6 1/4'' in dia with a 4'' x 1 1/2'' base. Inside the case, the product CD is enclosed in a soft plastic sleeve. Five more soft sleeves, also from Radius, are provided so the packaging can be reused as a storage unit for other CDs.
Mac-like look
"The plastic clamshell case of Office 2001 for Mac really speaks to what the Macintosh customer has come to expect from software for their industry," says Amie Servais, lead product manager, MS Macintosh Business Unit (MacBU). "[It] was designed specifically to look and feel truly Mac-like."
Adds Kevin Browne, MacBU general manager, "We asked our design team to literally think outside the traditional box for this product, and the result is a package as useful as it is eye-catching."
Landor Associates (San Francisco, CA) developed the packaging's original design concept after which Microsoft took that idea and fleshed it out further with the help of Ivy Hill (New York, NY) and, subsequently, Radius.
Servais informs Packaging World, "We've had overwhelmingly positive feedback about the reusability of the case." The package was the gold award winner in the Packaging Structures category of the 2001 Industrial Design Excellence Awards (IDEA) from the Industrial Designers Society of America. One judge in the IDEA competition notes, "Of all the products that claimed to be reusable, the Office 2001 case seems most likely to have a second life. The team created a case that looks like the Mac world, holds extra CDs beyond the Microsoft disc, and will handily survive life in a soft briefcase."
Aesthetic challenge
Servais calls the packaging the project's biggest challenge. "Mac customers are traditionally harder to please than PC customers, because they tend to be creative professionals who expect more in terms of aesthetic appeal. Based on the feedback we have received thus far, the Office 2001 for Mac packaging has met our Mac customers' expectations."
According to Microsoft, the Office 2001 for Mac has won rave reviews from both Mac consumers and retailers alike. "The product has been a success, with worldwide sales over a half million to-date," Servais said in late June. The product is sold in the new package for $499 for the basic version, $299 for the upgrade and $229 for the academic version. (RL)
Companies in this article