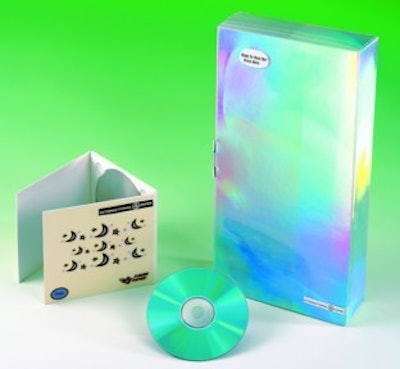 The microelectronic assembly can deliver an audible message about the product, or use lights to highlight part of the package, such as a logo.
"We have significant interest from customers to produce everything from movie packages that can play audio clips from the film, to restaurant take-out packages that double as a child's toy," claims Eitan Avni, director of development, e-packaging, for International Paper, whose Cincinnati Technology Center (Cincinnati, OH) is involved in the project announced in late-January '01 by IP and Power Paper (Tel Aviv, Israel). The companies signed a Memorandum of Understanding to develop and manufacture what they refer to as "e-packages."
Power Paper's Hong Kong subsidiary, Thinergy, assembles the electronic packages, which include a caseless "battery" that derives its voltage from proprietary ink-like materials. Battery shelf life is said to be 2 1/2 years. The materials are screen-printed or laminated onto a flexible plastic or paper substrate. The 0.5-mm-thick assembly is sent to IP for embedding into a paperboard folding carton or corrugated case.
According to Jenny Boardman, IP's manager of media relations, a package equipped with this assembly could be activated when a consumer picks up the container from a store shelf, and again after the package is at the consumer's home. Boardman, and Power Paper founder Baruch Levanon, both say they anticipate the technology to be used commercially later this year.
Companies in this article