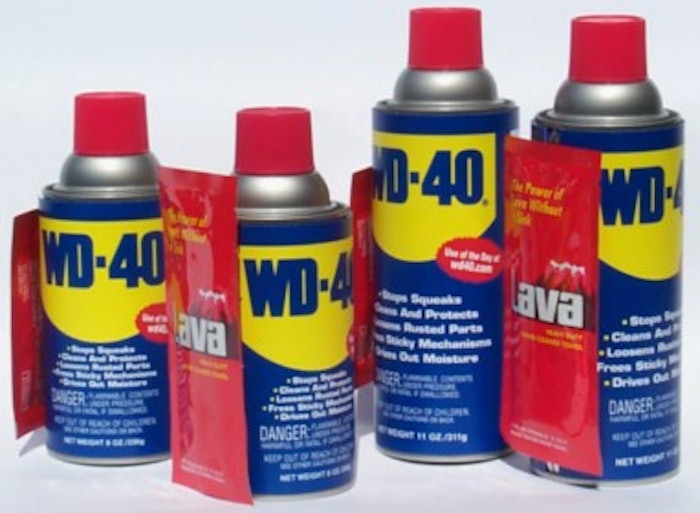 Half the cans had packs of Lava liquid hand soap, half had packs containing a premoistened Lava hand towelette. The liquid packs, supplied by copacker Marietta Corp. (Cortland, NY), measure 4" x 2.5"; towel packs are 5 1/2" x 2.5". WD-40 Co. declines to disclose the towel pack supplier.
Both types of the predominately red packs are a foil lamination and printed in at least five colors. The towel pack is notched for ease of opening, the liquid soap pack is perforated for ease of opening.
From January through June, approximately two million more Lava samples will be attached to cans destined for specific retailers that include Home Depot, Wal-Mart, Pep Boys, Menards, True-Value Hardware, Tractor Supply, and CSK Auto.
Lava director of marketing Rob Fleisher tells Packworld.com that the program's late '00 success encouraged them to continue it well into the new year: "It was successful because we were able to deliver samples in a cost-effective way directly into the hands of end-users. We have now increased distribution of Lava. This new version will be on account-specific programs in which we hope to receive a greater return on our investment."
Concurrently, the company will ship another million promotional cans in April through May as part of the mass sampling program.
Lava-adjusted graphics
According to Fleisher, the promo effort involved changing the graphics placement on the cans so as to not obscure printed danger warnings or bar codes.
"Then we provided very specific instructions for the placement of the sample packs," he notes.
That's done by the company's five contract packaging locations throughout the United States. At the CP location, a spot of glue is manually applied to the Lava sample, which in turn is attached manually to the side of the cans. A pressure-sensitive label is then added to cased product indicating "Free Lava Heavy Duty Hand Cleaner On-Pack Samples Inside."
The company has attached items to cans of WD-40 before (see Sept. '00 p.2), "but those [promotions] are usually as a can twin-pack with a film band," Fleisher says.
Companies in this article