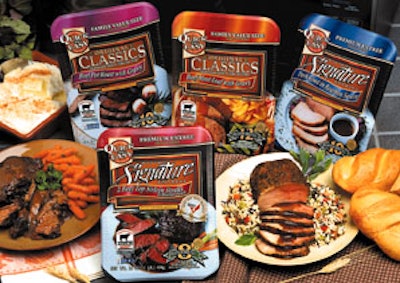 When its ready-to-heat Quick 'n Easy Signature line of beef products was introduced, RMH packed the beef into microwavable trays topped with clear lidding film and a label. However, the label was too small to effectively communicate product benefits to consumers, says Jon Rocke, RMH president. Last fall, RMH contacted Robbie Mfg. (Lenexa, KS) because that company's PromoBag™ had energized the sales of many poultry and prepared foods' packages.
For the RMH line, Robbie's bag is made from 75-ga AFGT Clysar film from DuPont (Wilmington, DE). Robbie process-prints the film in eight colors by flexo before it's fabricated into bags. The new packages add strong graphic appeal, plus full front, back and even side printing. RMH cooks the meat in a vacuum pouch that's loaded into the microwavable tray. The tray is put into the bag, the bag is heat-sealed and the film is shrunk tightly around. The entrees retail for $6 up to $10.99.
"The new film actually has vent holes on the sides that aid in creating a tight shrink but also help to release pressure at high altitudes," Scott Witzig, director of marketing says. Nonetheless, the graphics, developed by Marketing by Design (Elk Grove Village, IL), are the most obvious improvement.
"The mouth-watering photo of the prepared meal has really made the new package more attractive to consumers," says Witzig. "Sales have increased by 20 percent, and reactions from potential customers indicate sales will double over the next few months."
Companies in this article