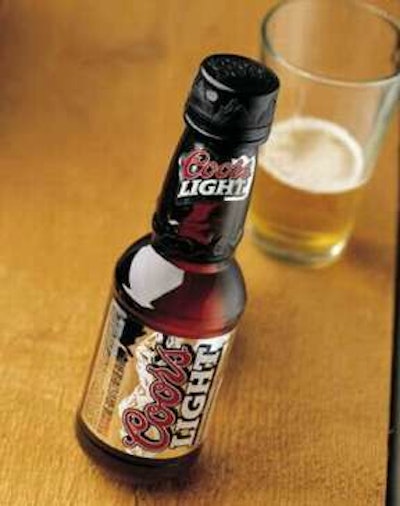 The 16-oz amber bottle has been available since Sept. 1 in a number of markets around the country, primarily in stadium venues.
For the first time since it pioneered beer in plastic 30 years ago, Coors Brewing of Golden, CO, recently began testing a five-layer amber bottle for 16-oz Coors Lite. The bottle has been available since Sept. 1 in a number of markets around the country, primarily in stadium venues.
Supplied by Continental PET Technologies (Florence, KY), the Coors bottle is similar to the one used by Miller Brewing. It's coinjection/stretch blow molded, incorporating nylon as a barrier layer with an oxygen scavenging component as well. It's also distinguished by mountain-like imagery molded into the neck just above the shoulder. Coors has long promoted its Rocky Mountains heritage. In this case, Coors fills the plastic bottles at its Memphis plant on a line adapted to accept plastic bottles.
Alcoa (Crawfordsville, IN) supplies the compression-molded polypropylene closure. It includes a gas barrier layer of ethylene vinyl alcohol. Like the bottle neck, the cap has a Rocky Mountains-like design molded onto its skirt. It also has the words "Coors Lite" on the top.
The 3.2-mil metallized PP label is from NorthStar Print Group (Milwaukee, WI). NorthStar's Terry Fowler says this is the first commercial application of NorthStar's AquaStar® label. Unlike most labels made of unsupported film, this is not a pressure-sensitive label. It's a cut label that's cold-glue applied, though Fowler doesn't specify just how NorthStar manages to get an unsupported film label, which is inherently flimsy, to feed reliably from a magazine.
NorthStar describes the label as more costly than metallized paper, but less expensive than a metallized film p-s label. The label is gravure printed in three colors. "We took our time in developing this bottle because we wanted to do a number of things correctly," says Coors' Dave Taylor. For instance, neither the plastic label nor the plastic cap impedes recycling of the plastic bottle, says Taylor. Also, the bottle incorporates 30% recycled PET resin. And finally, there's those mountains on the cap and bottle neck. "We wanted a package that, in shape, look and feel, underscored our brand equities," says Taylor. "That took some time."
Companies in this article