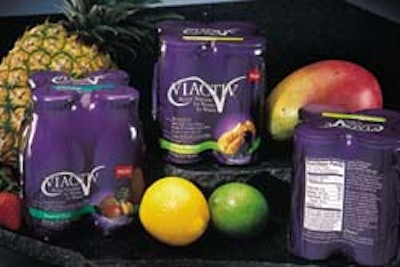 Both are sold in four-packs whose shrink-wrap stands out because, unlike most flexible film substrates, the film is printed via costly gravure rather than flexo. "Viactiv is a premium nutritional item," says David Wiemann, project manager at Mead Johnson, which is based in Evansville, IN. "We felt the only way to achieve the desired look was with rotogravure printing. The flip side is that we knew going in how difficult it would be to accomplish what we wanted."
Flexo printing is commonly used for shrink films because it is fairly simple to keep the extensible film in register as it moves over the central impression drum. Gravure printing, with its linear web path, makes it more difficult to keep the film in register. Still, Wiemann and colleagues knew gravure was required for exceptional graphic reproduction.
So they asked Sonoco Flexible Packaging (Hartsville, SC) if it could print their shrink film on a gravure press. Not only did Sonoco succeed in executing the demanding print job, it developed a special silver ink for the "V" in Viactiv. Product information is legible, says Wiemann, even though the reversed-out type is very small. The 2 ½-mil polyethylene film is printed in five colors.
The new Viactiv containers are shrink-bundled for Mead Johnson at an unnamed contract packager. Launched last January, each four-pack sells for about $3.30.