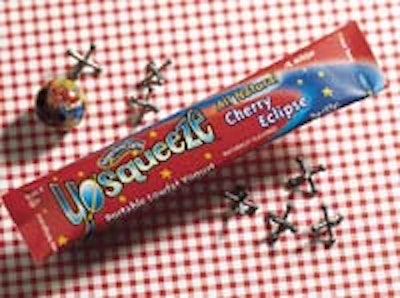 To produce the Yo Squeeze tubes, the Londonderry, NH-based yogurt maker is the first U.S. company to commercially use Hassia's (Morganville, NJ) SVL 16/24 machine for a liquid-based product.
The machine forms and fills a tube from an approximately 3-mil structure that includes 48-ga polyester/10# white polyethylene/13/4-mil coextrusion of ethylene vinyl alcohol and linear low-density PE. The polyester is flexo-printed in six or seven colors, depending on variety and is supplied by Curwood (Oshkosh, WI).
Instead of a fin or lap seal, however, this pack receives what Stonyfield and Hassia refer to as a "butt seal." The film is machine folded into a tube whose edges are sealed with a 41/2-mil "tape," also from Curwood. The white tape is made of 2-mil coextruded LLDPE/adhesive/48-ga oriented polyester/adhesive/2-mil LLDPE.
"We're the first competitor of Go-Gurt™," says Mary Jo Viederman, Stonyfield's director of "cow"-munications, estimating Go-Gurt sales at $65 to $80 million. "And they couldn't meet consumer demand. We feel we can, and capture the all-natural segment with our product."
Yo Squeeze is available in three flavors, retailing for $2.39 to $2.69 in natural food outlets. For supermarkets, the product rollout will move from west to east.
Companies in this article