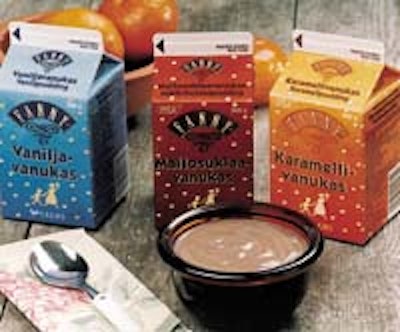 sells three varieties of its Fanny™-brand custard pudding in paperboard gabletop cartons that compete with plastic cups.
Holding 500 g (26 ½ oz), the cartons are made of 21-pt board that has five layers: polyethylene/tie layer/ethylene vinyl alcohol/paperboard/ PE. Sold in refrigerated sections of supermarkets for about seven Finnish Marks (U.S.$1.11), Fanny products have a five-week shelf life.
Valio uses Stora Enso's paperboard with Ensobarr extrusion coating for barrier properties that protect aroma and taste. Stora Enso is represented in the U.S. by Stora Enso Interamericas (Miami, FL). Stora's Karhula, Finland, mill applies the extrusion coating. The material is printed flexo in four colors and cartons are formed at the Lahti, Finland, plant of Elopak (New Hudson, MI). Blanks are shipped to Valio for filling. The process is similar to that of Valio's "Fons"-brand gabletop cartons for water (see Packaging World, Aug. '99, p. 38, or pack world.com/go/valio).
While the cartons of pudding have been sold for years, Valio has continued to work with its converters and suppliers to improve oxygen barrier, achieve source reduction and improve the converting process.
"We have succeeded in establishing a market segment for the Fanny product family," says Mari Meriluoto, Valio's product manager. "Gabletop cartons stand out nicely on the refrigerated shelves from among the conventional [plastic] cups. Many consumers choose the gabletop because it takes up less space in the home fridge compared with the equivalent number of cups."
Companies in this article