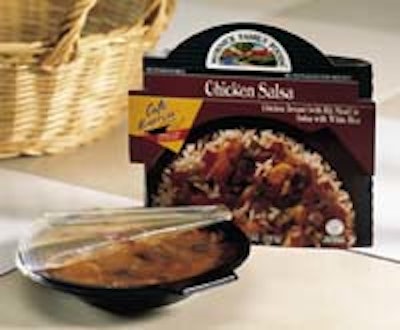 Wornick Family Foods of Cincinnati and Dallas-based 7-Eleven, Inc., used the annual Food Marketing Institute exhibition to promote Café Express™, recently launched in participating U.S. 7-Eleven stores nationwide. The fully prepared 8.5-oz meals—pot roast, beef steak, chili and beef stew—are filled in shallow black plastic bowls with clear flexible lidding heat-sealed to the flange. At Wornick's plant, after filling and lidding, the products are retort-processed to give the packages a 12-month shelf life at ambient temperatures. Each bowl is put in a colorful paperboard sleeve and merchandised in-store in a specially designed floor stand that holds 32 trays. Suggested retail price is $3 to $3.50 each.
Wornick brings more than 20 years of experience in flexible retort packaging of MREs ("meals ready-to-eat") for the U.S. military. With its 7-Eleven partnership, the company expects solid results in the mainstream retail arena because new packaging and processing technology produces a meal tasting so good it will appeal not only to a soldier in the field but to convenience-craving yuppies, as well, says Wornick's Paul DuPont, vice president of sales and marketing. Microwave the bowl for two minutes and the meal is ready to eat—in-store, at home, at the office or on the go.
Wornick isn't saying what the "new technology" is. Presumably, heat, time and pressure are optimized to create a great-tasting, yet perfectly shelf-stable, product.
DuPont describes the bowl as polypropylene with a barrier layer he won't identify. "The bowl's shallow depth," he adds, "shortens the amount of cook time required." He doesn't say much about the barrier lidding material, either, except that it's quite unique in its ability to maintain seal integrity throughout the retort process, yet still peels off easily in the hands of the consumer.
A few aisles away at FMI, In Zone Brands of Austell, GA, was busy promoting Scooby-Doo™ Belly Washers™. The 12-oz bottle is topped by a 21/2''-tall push/pull closure injection molded of high-density polyethylene in the very likeness of the cartoon canine. Custom blow-molded of polyvinyl chloride by Owens-Brockway (Toledo, OH), the 12-oz bottle is wrapped in a PVC shrink sleeve gravure-printed in eight colors by American Fuji Seal (Bardstown, KY). The bottle's pinched middle fits nicely in kids' hands, says vice president of sales and marketing Kathy Ver Eecke.
The product concept literally progressed from the top down, says Ver Eecke. She's referring to the Scooby toppers, molded in China. Featuring a variety of licensed cartoon characters, the toppers had appeared on empty sports bottles sold at theme parks since the early '90s. Later, it was suggested that In Zone should use them on beverage bottles for retail sale. A two-year development effort turned that idea into Belly Washers.
Scooby was introduced in one flavor, "Ruh Roh Raspberry," at Target stores in February, and it's priced at $2.99 or less. Other novelty beverages featuring additional characters such as the Power Rangers™ will follow, says In Zone.
Companies in this article