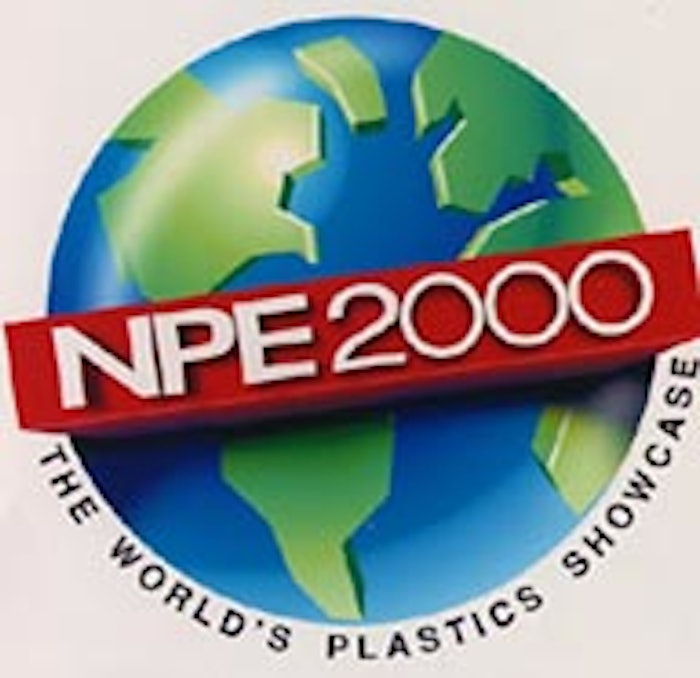 Whether its machinery or materials, attendees will have a plethora of products and technologies to peruse at this month's National Plastics Exposition. Here's a brief sampling of some of the products that will be seen at Chicago's McCormick Place June 19 to 23.
Blown film treater Pillar Technologies' (Hartland, WI) new Universal Split Box Treater is designed to be a cost-effective system for corona treatment on blown film lines. System opens horizontally for easy threading of substrates. Includes stainless-steel shrouding over the electrodes, providing higher corrosion resistance.
Pillar Technologies
Phone: 888/745-5276.
Molder with degassing unit
The 250LL-50 vented barrel-type molding machine is now equipped with a degassing unit that accommodates post-consumer scrap. From Aoki Laboratory America (Elk Grove Village, IL), the degassing unit operates as part of the screw, eliminating with a vacuum pump the moisture and acetaldehyde generated.
Aoki Laboratory America, Inc.
Phone: 888/638-2323.
Smaller thermoformer
A new design aimed at reducing machine size, as well as improved console controls and operating systems, are part of MAAC Machinery's (Carol Stream, IL) new Millennium Series programmable single-station pressure former. Said to offer quick cycle times, small footprint and servo ball valves for improved accuracy and repeatability. Company will also show router/trimmers and a new ASP thermoformer.
MAAC Machinery Corp.
Phone: 800/588-6222.
Rotary blow molder
The Rotary 8, eight-station rotary continuous-extrusion blow-molding machine combines a wheel machine with a shuttle machine's ability to produce a calibrated neck for HDPE bottles. From R&B Machine Tool (Saline, MI), the Rotary 8 produces up to 180 bottles/min. Makes bottles from 12 oz to 2.5 gal, and can extrude up to 6 parisons on 85-mm centers.
R&B Machine Tool, a Unova Co.
Phone: 734/429-9421.
Thermoforming equipment
Lyle Industries (Beaverton, MI) and Gabler Maschinenbau (Lübeck, Germany) will introduce new thermoforming equipment. Lyle's new servo-driven, high-speed vertical bottle trimmer includes dual-lane shuttle platens and servo-driven indexing and separator screws. Gabler's "state-of-the-art" D600 trim-in-place thermoforming system produces PP lids.
Lyle Industries, Inc.
Phone: 517/435-7717.
Gabler Maschinenbau GmbH
Phone: 011/49.451.3109.442.
New PE resins
Equistar Chemicals (Houston, TX) will display new HMWPE resins, high stiffness/clarity LLDPE resin, HMWHDPE for paper replacement applications requiring increased stiffness and an extrusion-laminating LDPE for improved processability. A bimodal HDPE injection-molding grade is said to offer a balance of stiffness and stress-crack resistance.
Equistar Chemicals, LP
Phone: 713/652-7300.
http://www.equistarchem.com
Surface treater for adhesion
Designed to replace or eliminate the use of open flame treating for plastics parts. Lectro Eng. (St. Louis, MO) says its LT2000 is 66% smaller and can treat parts faster and at less expense than the company's standard Lectro-Treat product. Works with parts formed by injection and blow molding, extrusion, thermoforming and vacuum-forming processes.
Lectro Eng.
Phone: 314/567-3100.
Blow molders
Bekum America (Williamston, MI) introduces its BA-34.2 machine that produces "technical parts" and canisters up to 30 L in volume with calibrated necks in a continuous extrusion process. The new H-111S single-side continuous extrusion blow-molding machine produces up to a 3-L container and is recommended for applications requiring quick changeover and JIT runs. Also debuting is the BM-905D for producing 1-gal industrial round handleware bottles in 3-layer, recyclable HDPE, in a 12-cavity process operating at 3괌 bph.
Bekum America Corp.
Phone: 517/655-4331.
Pearl color concentrates
Molded or extruded parts can exhibit lustrous pearl colors or iridescent effects with a new series of concentrates from Teknor Color Co. (Pawtucket, RI). TekPEARLiteÔ FlipFlop concentrates work with homopolymer and clarified PP, PE, transparent PS and flexible PVC resins processed on conventional extrusion, injection and blow-molding equipment.
Teknor Color Co.
Phone: 401/724-8520.
http://www.teknorcolor.com
Fragrance additive
Five fragrance additives from Clariant Masterbatches (McHenry, IL) can be incorporated into a base PE resin at a letdown ratio between 2% and 10% to make HBA or cosmetics packages smell like green apple, lemon, vanilla, leather or lavender. Available for injection molding, blow molding and film extrusion processes.
Clariant Masterbatches Div.
Phone: 815/363-0025.
http://www.clariant.masterbatches.com
Thermoforming line
For the first time, Adolf Illig (Heilbronn, Germany) will present a thermoforming line in the U.S. The RDM 54K produces cups via an 18-cavity forming/punching tool, stacking device, roll preheater and granulator.
Adolf Illig Maschinenbau GmbH & Co.
Phone: 011/49.71.31.5050.
Compounding machinery
The Drais Gelimat[r] compounder uses high-speed thermokinetic systems to process virgin and recycled polymers, compounds and masterbatches. From Draiswerke (Mahwah, NJ), material from the compounder can be fed to a melt pump, short-barrel extruder, calender or molding system.
Draiswerke, Inc.
Phone: 201/847-0600.
http://www.draiswerke-inc.com
Surface-analysis system
Tricor Systems' (Elgin, IL) hand-held surface analysis system measures and analyzes gloss levels, regardless of texture or color. Portable, hand-held Model 806H quantifies surface characteristics and monitors consistency of varying products. Provides measurement data, image displays, histograms, internal calibration and data comparisons.
Tricor Systems Inc.
Phone: 800/575-0161.
http://www.tricor-systems.com
Handleware molders
Jomar (Pleasantville, NJ) will exhibit for the first time its new double-station blow-molding machine. The EBM 6.0-D can process HDPE, LDPE, PP, PVC, HMWPE, PC and PETG. Produces containers with view stripes, articles in up to five layers and in wide-mouth varieties. Offers in-line trimming and leak detection.
Jomar Corp.
Phone: 609/646-8000.
http://www.jomarcorp.com
Tensile/compression tester
The new 95 Series variable-speed test stand from Com-Ten Industries (Pinellas Park, FL) is for tensile and compression testing. Recommended for labs and to check properties of plastics in production environments. Speed ranges from 0.01" to 30"/min and forces from 4 to 5ꯠ lb. Includes newly designed electronics, heavy-duty rocker switches, crosshead jog control and upper and lower limit switches.
Com-Ten Industries
Phone: 800/552-5546.
http://www.com-ten.com
Injection molding
The Pinnacle Series 140- and 280-ton injection-molding machines will debut from Van Dorn Demag (Strongsville, OH). Features new clamp design with 5-point toggle. Also new will be the 150-ton El-Exis E hybrid electric injection molder, and a new injection unit for its larger-tonnage Spectra and Caliber series.
Van Dorn Demag Corp.
Phone: 440/876-6231.
Color matching system
SPEEDeCOLOR[tm] color matching system determines a precise color match to enable M.A. Hanna (Suwanee, GA) to deliver a molded sample chip to a customer, usually in 24 hrs. Consisting of a portable or benchtop spectrophotometer and software, the system reads a customer's sample on a laptop computer, using the company's "knowledge base" and software to identify matches.
M.A. Hanna Color & Additives
Phone: 770/271-6826.
Sheet extrusion
New Inline[tm] sheet extrusion systems and Trident Series[r] J-Stack[tm] sheet takeoff systems are available from Processing Technologies (St. Charles, IL). Inline direct-feed thermoforming systems accommodae production from 1귔 to 6ꯠ pph for tooling widths of 30" to 50" in both monolayer and coextruded structures. J-Stack provides 450° web wrap, which is said to yield 25% greater use of roll cooling for high throughput systems.
Processing Technologies, Inc.
Phone: 630/443-3000.
http://www.ptiextruders.com
Coextrusion blown film
The BF3067GP three-layer coextrusion blown film line produces 1ꯠ lb/hr of LDPE/LLDPE blends. From Reifenhauser (Ipswich, MA), the line comes equipped with the latest UFA III winder, says the company. The line includes two 60 mm 30:1 L/D grooved feed and one 80 mm 30:1 L/D extruder. Dual-purpose collapsing frames permit runs of PP or PE and/or HD and metallocenes.
Reifenhauser Inc.
Phone: 978/412-9700.
Companies in this article