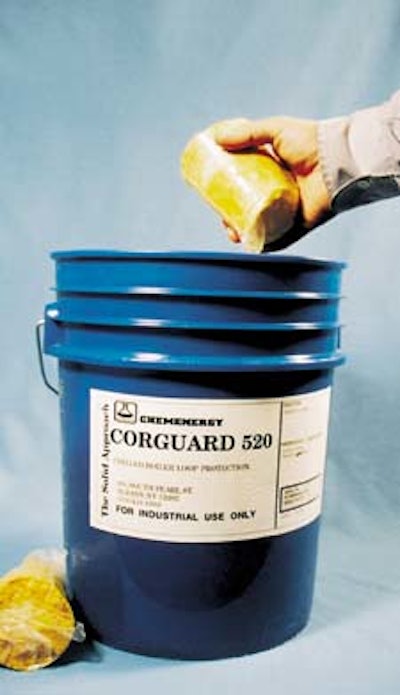 The firm makes water-treatment chemicals that control corrosion in large-scale, institutional HVAC systems. Typically, these chemicals are in a liquid format. But customers told Chemenergy they didn't like having to mix and measure the liquids. They also disliked handling the 500-lb 55-gal drums and the disposal problems associated with them.
So Chemenergy "encapsulated" its liquid product in a solid format and now packages each 1-lb block of chemical in clear, water-soluble film from Chris-Craft Industrial Products (Gary, IN). Individual packs are added directly to the boiler/chiller, and the water-soluble packaging dissolves as the chemical mixes with the water. Chemenergy packages 30 1-lb packages into a 5-gal plastic pail (shown).
Chemenergy uses self-designed semi-automatic packaging equipment to package and heat-seal the 1-lb blocks of chemical in premade bags of Chris-Craft's 1 ?-mil MonoSol® M-8630 film. According to Chemenergy owner John Fleig, the new package has numerous advantages over its predecessor. Worker safety is high on the list. "We like the idea of surrounding the chemical in water-soluble film and providing added protection to our customers during handling," says Fleig.
Because the chemical in its solid format is highly concentrated, the 30 lb of product in a 5-gal bucket is the functional equivalent of the liquid formerly contained in a 55-gal drum. So instead of trucking drums via common carrier for approximately $100 per drum, Chemenergy can now employ a carrier to send a 30-lb plastic bucket for $15. "There's a huge savings," says Fleig.
In a hurry? Request more info via Web-based reader service by clicking on the reader service number.
Or you can jump right to their Web site.
Companies in this article