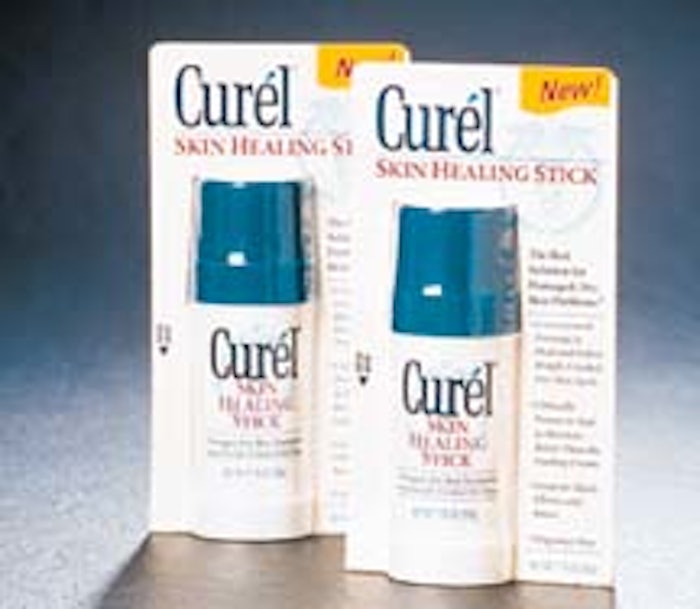 An innovative feature on the wraparound display card of Curél® Skin Healing Stick from Andrew Jergens makes it easy for consumers to tear into the package and remove the stick without using a scissors. Ease of opening comes from a perforation on the side of the SBS card that is perfectly aligned with a perforation on the thin film shrunk around the rigid plastic primary container. Developed by Witko (Reynolds, IN), this patented easy-tear design won a silver award in the nonfood category of the 13th annual awards competition sponsored by DuPont (Wilmington, DE).
Witko receives 18-pt SBS cards with an 8"L die cut in the middle. Covering the die-cut area is 4-mil DuPont Surlyn® film. This card is loaded onto Witko's proprietary equipment, and a vacuum pulls the film down to form a cavity into which the filled and capped healing stick is dropped. The machine then folds the card lengthwise and radio-frequency seals it. Finally, the entire package is sent through a heat tunnel to shrink the Surlyn tight to the product.
"We were interested in a package that let consumers see the form of the stick itself, rather than having a small stick on the shelf among other moisturizers," says Dan Linkugel, senior packaging engineer at Cincinnati-based Andrew Jergens. "The easy-open feature was a big reason we chose Witko."
Available nationwide in drug, food and mass merchandise outlets for nearly a year, Curél Skin Healing Stick retails for about $8.50. Its wraparound display card is the first to employ Witko's easy-open design.
Another nonfood DuPont Award winner was the Betadine® Prepstick™ applicator for hospital use (see Packaging World, Sept. '99, p. 2 or packworld.com/go/prepstick). For a look at the seven winners in the food category, see the story on p. 23.
Companies in this article