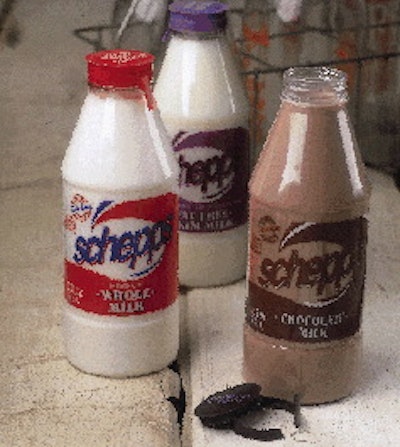 54). Shepps' bottle differs from its predecessors, however, in that it's blown into molds that are cryogenically cooled by liquid nitrogen (see PW, August '97, p. 19). Schepps' bottles come from Plastic Solutions of Texas Inc. (Dallas, TX), the firm that developed the "cryopet" technology.
Cooling at cryogenic temperatures alters the crystalline structure of the PET material so that these bottles have sufficient heat resistance for hot-filling, good oxygen barrier properties, and resistance to ultraviolet light. In Schepp's case, the UV barrier is the only property that matters, since exposure to sunlight or store light can damage milk's vitamins and affect the fats in milk, thus hastening oxidation and off flavors. According to blow molder PSTI, the bottle it makes for Schepps blocks as much as 30% of the light that penetrates a conventional PET container. The bottles, made on a reheat stretch/blow-molding machine from Electra Form (Vandalia, OH), have a 38-mm finish and a roll-fed film label, and they take a snap-on cap.
Schepps distributes milk in Texas and Louisiana. It had no single-serve plastic bottle until now. But management definitely wanted one. "Plastic is the way of the future," says marketing manager Steve Schenkel. Schepps sells the PET bottle through both convenience stores and supermarkets, where it's priced at about $1.10 each. Schepps' general manager Pat Boyle says the cost of the cryopet bottle is "competitive" with conventional PET containers. Boyle currently downplays PSTI's claims regarding the UV inhibitor, preferring for now to view this container as simply a PET bottle made by a different process. Boyle acknowledges that testing could verify the bottle's UV barrier. But, he says, "I don't know that we're going to go to that expense.
"Our main goal was to get into PET," continues Boyle. "Somewhere down the road we may be able to make some claims about UV barrier, but at this point we can't."
A discussion of the cryopet bottle is on the agenda for the Jan. 26 Cryogenics 1 conference in Richardson, TX. It's sponsored by Pak- Tech Conferences, Inc. (Naples, FL).
Companies in this article