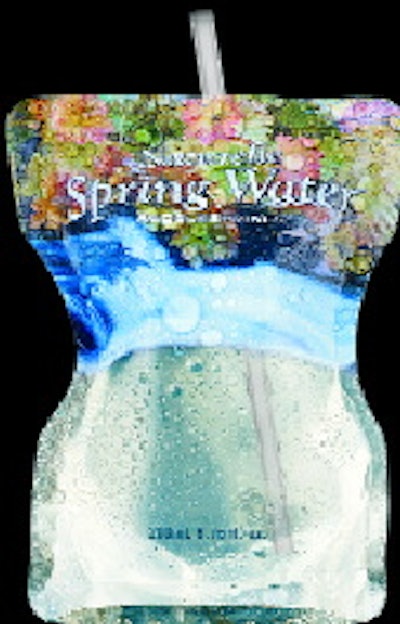 of Long Beach, CA. Attractively decorated windowed cartons holding six pouches retail for $1.99 to $2.59 in supermarkets in the West and Canada.
Eight-color gravure printing, an "hourglass" shape and a straw-hole with straw glued to the back all make this a pouch worth noticing. Unfortunately, SaddleSprings' Ron Berman considers the technology behind the pouch proprietary. He says only that the pouch material is "specially formulated," it's made on high-speed equipment and shelf life is 14 months. Packaging World sources, however, indicate that the pouches are made by Kapak (Minneapolis, MN) on equipment from Totani (Kyoto, Japan) and sent premade to a filling plant.
What Berman does talk about are marketing objectives. He says children ages 4 to 12 are the target audience. "But because of the unique package, we have also received a lot of interest from young adults and adults for sporting, traveling, camping and outdoor [uses]," says Berman. He believes the light weight and convenience of the pouch, combined with the source-reduction advantages that most flexible packages have, will make the pouched product a hot seller.
Companies in this article