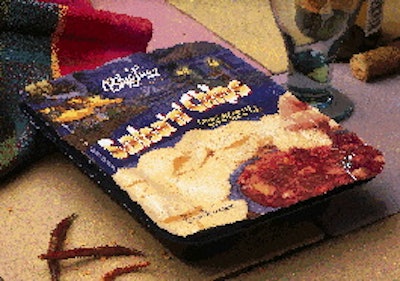 After chips are deposited into a thermoformed tray, salsa is hot-filled into a "cup" that's actually a compartment formed out of one corner of the tray. The tray is nitrogen-flushed to drive out o2 and heat-sealed with lidding material. The combination of hot-filling, gas flushing and barrier materials contributes to the nonrefrigerated shelf life of six months.
The tray is thermoformed of polypropylene by Rexam Containers (Union, MO) and incorporates an ethylene vinyl alcohol barrier. Not only is the tray substantial enough to accommodate the hot-fill, "We also wanted to give the consumer something that's strong enough to really facilitate on-the-go [consumption]," says John Balboni, executive vice president of business development for Ferrolito, Vultaggio & Sons in Lake Success, NY. That firm owns the Blue Luna Café and AriZona brands.
The specs and supplier of the lidstock hadn't been finalized as Packaging World went to press, though Balboni says the lidding will likely consist of a metallized structure with EVOH for barriers against moisture and O2, respectively. The lidding of the sample shown is flexo-printed, though Balboni says the company will switch to gravure to obtain better graphics.
The tray will be packed automatically on custom-built tray fill/seal equipment from Orics Industries (Flushing, NY). Balboni claims the linear machine will reach speeds of 80 to 100 trays/min. A much smaller rotary machine, also from Orics, is currently being used to produce the pack. At press time, the firm hadn't made a final decision where the product will be contract-packaged.
The new package sells for approximately $1.49 for 3 oz of chips and 3 oz of salsa. It debuted last month in c-stores in the metro New York City area and is expected to go national, says Balboni. Retailers also will receive a unique P-O-P display that holds eight packages and can hang on a wall, sit on a counter or attach to the side of a display cooler.
The early feedback? "It's been fabulous," says Balboni. "We were planning on sending a pallet or two [to distributors], and we're getting truckload orders."
Companies in this article