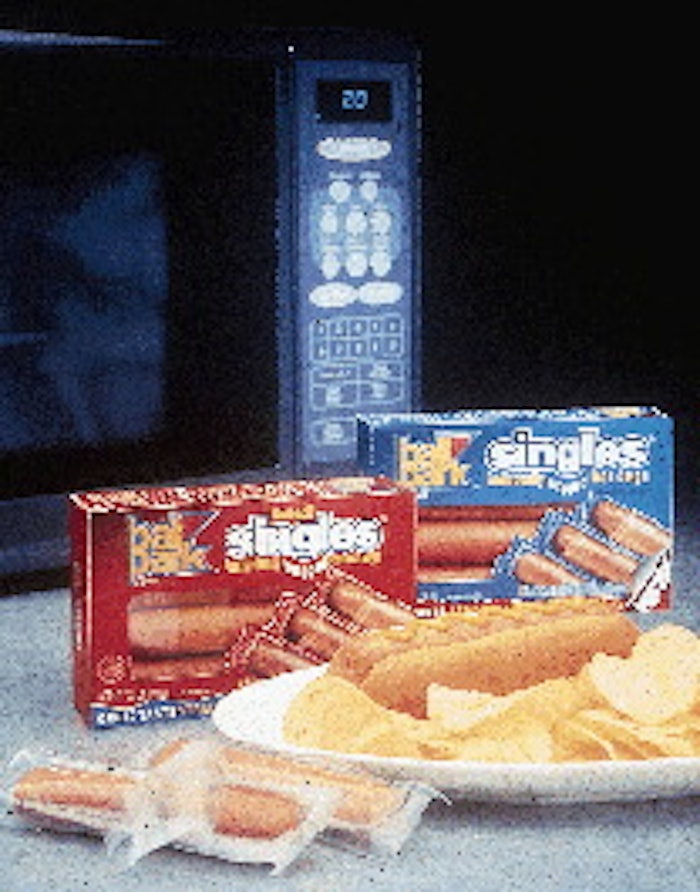 Marketed by Hygrade Foods, a Detroit, MI-based subsidiary of Sara Lee Corp., Singles are vacuum-packed in clear film, reportedly from Cryovac (Duncan, SC). The film is thermoformed/filled/sealed on a Sureflow® Model 8000 machine from Mahaffy & Harder (Fairfield, NJ). The bottom web is heated at a forming station, hot dogs are automatically loaded one per cavity, then a formed top web is heat-sealed to the filled bottom web. Knives cut perforations in the film between each hot dog. A single strip containing eight hot dogs is loaded into a six-color, flexo-printed paperboard carton that includes a clear plastic window adhering to the inside of the front panel. A graphic next to the window depicts how easily the packs peel open. Packaging is executed at Hygrade's Philadelphia, PA, plant.
The perforation makes it easy for children and elderly consumers in particular to pull apart one hot dog from the package. The self-venting film allows users to steam-cook the single hot dog in the microwave in 20 seconds. And the easy-peel feature makes it safe to open right out of the microwave.
"Singles represent a two-year development and an approximately $13 million investment in advertising and in packaging equipment," notes Earnestine Benford, director of business development for Hygrade. And while it's too early to determine store sales, Benford tells PW that volume projections are expected to deliver a two-year payback on the investment.
Singles carry a 70-day shelf life and retail for anywhere between $2 and $3.29. "Ball Park Singles have been researched with consumers over the past two years and response to single-serve hot dogs has been tremendous," says Benford. "We believe this is one of the biggest innovations to ever hit the hot dog industry. It's truly a singular sensation."
Companies in this article