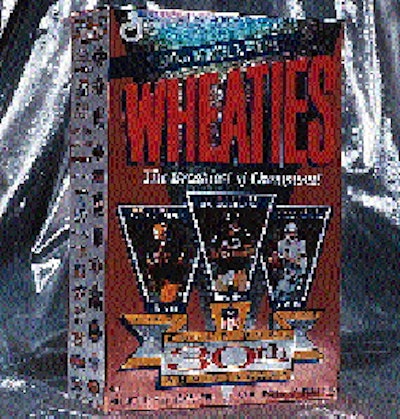 Sold nationwide, the 22-pt paperboard carton commemorates the 30th Anniversary of the National Football League's Super Bowl with a stylized logo on the front panel showcasing an outstanding player from each of three Super Bowl decades. The micro-embossed action photographs of Bart Starr, Terry Bradshaw and Troy Aikman literally stand out on the carton. Wheaties' familiar tangerine and blue logo is positioned above the embossed figures, on a silver and melon-colored background. Graphic Packaging's (Wayne, PA) Lawrenceburg, TN, plant converts the carton via the Composipac process it has used for prior General Mills cereal cartons, including a collector's edition carton for another Wheaties promo celebrating the NFL's 75th Anniversary two seasons ago. During this process, a layer of oriented polypropylene film is reverse printed via gravure and then vacuum metallized and laminated to recycled paperboard. The carton's back panel profiles the three players, while also listing scores from all prior Super Bowls. A side panel shows the 30 Super Bowl logos. "Wheaties is proud to recognize the NFL and its premier event--the Super Bowl--with this limited-edition package," said Shawn O'Grady, Wheaties marketing manager. Average retail price is $3.25.
Companies in this article
Videos from Graphic Packaging Intl.