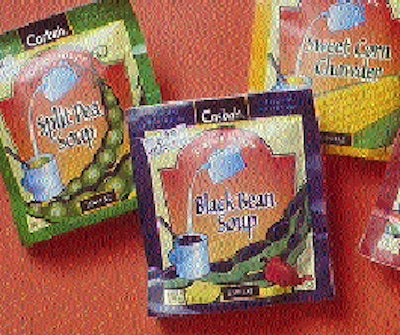 Its new Casbah® line of Teapot Soups(TM) are packed in lightweight pouches that stand on a shelf. They retail for 79¢.
"Since we wanted to position this line against soups packaged in paper cups, we wanted it to stand up like cups," says Dimitri Cados, president of Sahara. "And we wanted a principal display panel at least as large as a cup." The answer is a gusseted pouch of paper/polyethylene, litho printed in five colors by Lithotype Co. (South San Francisco, CA).
Along with delivering a stand-up package with a good display panel, it may be the smallest pouch ever to get a gusset. Rollstock is formed and filled on a horizontal packager from Klockner Bartelt (Sarasota FL) that's fitted with what Cados calls a proprietary filler. It permits up to six ingredients to be filled separately, Cados says.
The pouch is made of 55# paper/15# low-density polyethylene, and Cados claims it offers six months' shelf life. It also allows the front panel to point out that the pouch requires 84% less packaging than dry soup in a cup. And Cados should know, Sahara also makes other products in paper cups. "If this Teapot Soups package becomes successful, we'd like to phase out the cups," he says.
Companies in this article