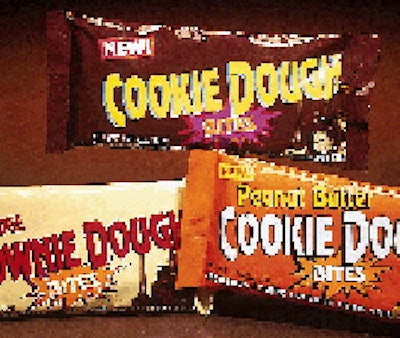 Fortunately, its contract packager steered the company to Sonoco Flexible Packaging (Hartsville, SC). In short order, the Cookie Dough Bites were bagged and on their way to Chicago.
"We met with Sonoco three weeks before the show," says Taste of Nature president Doug Chu. "They were very clear about what we had to do to make it happen."
Sonoco introduced Taste of Nature to Fisher Design (Cincinnati, OH), whose package designers adapted an existing carton design and created the new flexible package virtually overnight. Sonoco's graphics and engineering departments finalized the package graphics and structure: a 90-ga oriented polypropylene adhesive-laminated to a 11/4-mil linear low-density polyethylene. They also arranged for a digital print run of 600 rollstock impressions that were delivered to the contract packager the day before Candy Expo. There the material was cut, formed into packages, filled, and heat-sealed closed, all by hand.
A smash hit at the candy show, Cookie Dough Bites are now available in 1.7-oz portions for $1.79 at movie theaters, video rental stores and C-stores. The only change in packaging is that today's fully commercial runs are printed on a gravure press in five colors. The company plans to expand its Cookie Dough Bites line to include 6- to 7-oz packs and bulk-packed 1-oz packs for Halloween sales through mass merchandisers and supermarkets.
Companies in this article