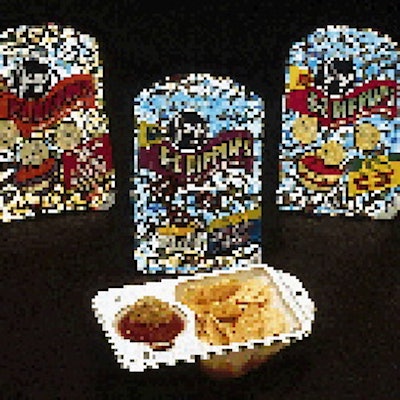 The product is matched by "first-class packaging that's unique, eye-catching and appealing," says Leonard Japp III, vice president for the Chicago-based snack maker. Most striking is the lidding, 48-ga metallized polyester that's holographically embossed and flexo-printed in up to eight colors plus vanish. Jays sources the film through broker Flexaco (Bloomingdale, IL). It says the film is laminated to a coextruded film containing ethylene vinyl alcohol.
While the hologram draws attention, the polystyrene serving tray from Plastic Ingenuity (Cross Plains, WI) is truly functional. PI thermoforms 25-mil sheet into trays containing two recessed areas, one for the tortilla or potato chips, the other to hold a small plastic cup of salsa, dip, cheese or mustard. Once the cup's foil lid is removed, the cup can be microwaved and then returned to the tray for chip dipping. The cup carries a "7-Other" resin code.
Special cavities formed in the tray simplify denesting by contract packager New Glarus Foods (New Glarus, WI). Japp tells Packaging World that Jays furnished a tray filler/sealer to the CP for E-Z Dippin's packaging, but he declined to reveal any details. Shelf life ranges from eight to 12 weeks, says Japp. Packs purchased by PW editors were priced at $1.79.
Jays plans to market the new line in IL, MI, WI, IN and parts of MO and IA. "Based on consumer feedback, we developed this product for people on the go," says Jays president Tom Howe. Although the company is still filling its pipeline, "so far, we're having a great acceptance for this new product."
Companies in this article