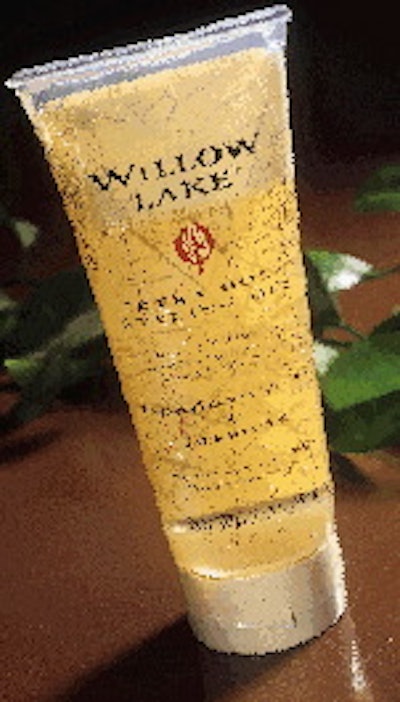 But a gel is best dispensed from a squeeze tube, Lamaur's marketers thought, rather than the clear bottles used for the other Willow Lake products.
So Lamaur asked distributor TricorBraun (St. Louis, MO) for something that would bridge the gap. The resolution: a tube, yes, but one that shares the clarity of the polyethylene terephthalate bottles used for the other Willow Lake products. According to manager of packaging George Hill, it was a way of doing something new and different while still making it clear that the new product belongs to the line.
Made by Tubed Products (Easthampton, MA), the 7-oz tube is extruded of low-density polyethylene with a high-gloss coating. Tubed Products calls the clear tube, made in a proprietary process, a "breakthrough in tube manufacturing technology." DowIndustries (Wilmington MA) supplies the pressure-sensitive label for the tube, a 2.4-mil polyolefin film that is rotary screen-printed in four colors. The full-wrap label is applied automatically. The flip-top closure, supplied by Seaquist Closures (Mukwonago, WI), is injection-molded of polypropylene with a custom "flecked" oatmeal color added to coordinate with the design on the label.
The product, which retails from $3.29 to $3.49, is due out nationwide this spring. Hill says Lamaur expects a very positive response from the product, and the company is happy with the design of the package.
Companies in this article