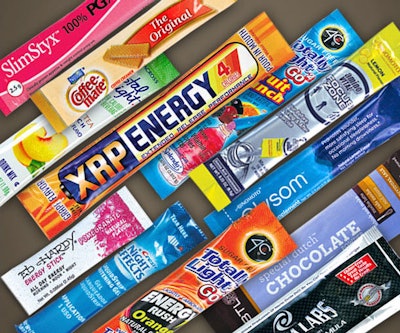 Technical Help in Engineering and Marketing (T.H.E.M.), best known for commercializing Sanko Stick Packaging in the United States, offers packaging solutions to take brands from initial concept to full-scale national or global production. The company offers on-site R&D at its Marlton, NJ headquarters as well as pilot production, scale-up, and full-scale contract packaging capabilities. Below, Neil Kozarsky, CEO and President, offers insight on past predictions, current emerging trends and the 'remarkable journey' of flexible stick packaging as the format approaches its 20th year in North America...
The year was 1996. Bill Clinton was elected to a second term as President of the United States; Braveheart was awarded Picture of the Year honors; and The New York Yankees won their first World Series in 18 years. It was also the year that T.H.E.M. introduced flexible stick packaging to the North American market. "We discovered these unique portion packs, which served as alternatives to traditional rectangular pouches, in Japan several years before," recalls Neil Kozarsky. "Believing stick packs could be of great value to our consumer packaged goods clients, we formed a partnership with Japan's Sanko Machinery Co., Ltd., the inventors of stick packaging."
STICK PACKAGING IN NORTH AMERICA IN THE 1990'S: THE FIRST DECADE
Initially, single-serve applications in the domestic retail market included soluble coffee and cocoa, and infant formula. With its finger on the 'pulse' of 'on the go' consumers, T.H.E.M. made the bold prediction that many other products could benefit from becoming portable and more travel-friendly. The fulfillment of this prediction was evident in the pronounced advancement of sugar, non-dairy creamer and sweeteners during the late 90s, which was due in no small part to the stick pack format. "The adoption of stick packaging in these product categories resonates with the principles that our company was founded on," states Kozarsky. "To re-energize tried and true brands, and re-engage consumers through the use of innovative packaging formats."
CREATING GROWTH OPPORTUNITIES IN THE 2000S: THE NEXT TEN YEARS
Barely into the format's second decade in North America, T.H.E.M. developed "The Progression of Stick Packaging," a visual model that reflected its vision of the North American adoption of flexible stick packaging. The configuration was a reflection of consumer behaviors and preferences, and based on purchasing trends throughout European and Asian markets.
"We envisioned stick packs steadily moving up the consumer value chain, starting with sweeteners and condiments, and then escalating to soluble products, vitamins and nutritional products, and finally culminating with pharmaceutical grade applications," says Kozarsky.
Driven by the growth of bottled water during this time period, powdered beverage mixes in stick packs became a monumental success, and the floodgates opened for further line extensions that incorporated more and more of the functionality that consumers desired. Along with vitamins and nutritionals, a host of energy formulations tapped into the portability and convenience of the stick packs. "To a great extent, stick packaging followed the path in North America very closely to how we had anticipated many years before," adds Kozarsky.
2011-2015: PREDICTIONS MADE. PREDICTIONS REALIZED.
In early 2011, Kozarsky was asked to offer an outlook on the future of flexible stick packaging in North America. The following represented his five core predictions at the time, all of which have come to pass to a greater or lesser degree.
1. The enduring presence of the stick pack format. Sticks are here to stay: Growing focus on sustainability and environmental responsibility, along with the many other inherent stick pack benefits has made this prediction come true. Stick packs use 10-40% less film per impression than rectangular pouches, which translates into savings and efficiencies that brand and product managers just can't ignore.
2. The ongoing replacement of traditional pouches: Many product sectors including gels, liquids and pastes are experiencing the same benefits and advantages of stick packs. These same efficiencies also apply to liquid products. Increasingly, high-volume condiments and dressings are adopting the stick pack, as North American consumers have become increasingly receptive to the easy-to-use package format.
3. The ascendance of aseptic and dairy sticks: Aseptic and dairy products have become more prevalent in North America, and a similar growth has been noted on a global basis. Recent advances in processing and dosing approaches make the continuation of this trend a virtual certainty. Keys to success include portability, coupled with easy opening and dispensing of product.
4. Dissolve-In-The-Mouth (DITM)…The next "big thing:" As a stick packaging sector, DITM is poised for dramatic growth. The most challenging barrier facing brand managers in this area is ensuring that both efficacy and good taste are delivered to consumers consistently. As progress is made in these areas, stick packs will continue to represent package format of choice for numerous DITM applications. Interestingly, as prevalent as the pairing of stick packs and bottled water has become, there has emerged a wide range of retail and institutional use occasions where direct consumption is a decided advantage.
5. The unabated advance of manufacturing technology: Stick packaging machinery, and fully integrated product systems, continue to become faster and more efficient, qualifying stick packaging for an ever broadening range of products and applications. Film technology advances, including down-gauging and new non-foil barriers, are opening doors to a whole new range of capabilities. Advancements in stick pack machines have represented dramatic increases in production output, with speeds that now compare closely to that of pouch formers. Factor in new film roll splicing techniques that Sanko commercialized several years ago, and overall operating efficiencies will continue to increase dramatically.
BEYOND 2015: THREE NEW PREDICTIONS
Kozarsky forecasts the following three new developments that will shape the use of flexible stick packaging in the years to come:
1. A healthy entrance into Pharmaceutical and OTC markets: With new film technologies, manufacturing equipment and production advancements, stick packs will have greater ability to meet the most stringent compliance standards. "When combined with the inherent advantages of the stick pack format, we see great potential for growth," predicts Kozarsky.
2. The emergence of Upscale Quick Serve stick packs: The streamlined stick pack will come to be viewed as both a stylish form of dispensing premium products, and a smart way to align with shifting consumer attitudes. The further advancements in stick packaging design and printing will afford a high level of confidence for brand owners looking to preserve their product's high-value image. "Upscale, premium brands will be able to add superior convenience and portability to their list of product attributes, making this a mutually beneficial opportunity for all," forecasts Kozarsky.
3. Pets will experience the same stick pack advantages as their owners: Pets have come to be regarded as "members of the family" in homes throughout North America. Now as the use of stick packs by "two-legged" family members becomes second nature, brand owners of similar pet product categories, like shampoos and conditioners, food additives, treats,beverage products and vitamins will recognize the advantage of the now-familiar, single-use format offer for their pets. "Forward thinking marketers will seize on the advantages and user benefits of stick packaging to provide customers with the same convenience, portability and ease of use for their pets," concludes Kozarsky.
In the future, with the world continuing to undergo rapid change, packaging and marketing professionals will be under increased pressure to make accurate predictions and manage their businesses with the least amount of risk. "T.H.E.M. will continue to monitor consumer trends and emerging technologies on a global scale. While none of us have crystal balls, there are concrete measures and indicators available that can help us see opportunities for game-changers, like the stick pack," concludes Kozarsky.
Companies in this article