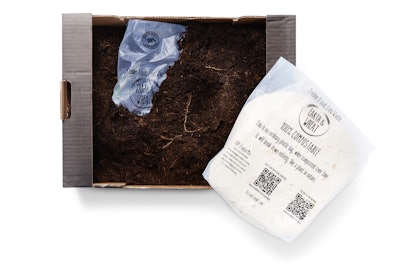 Chiefly a British slang term, "wonky" is used to describe something that is crooked, off-center, or askew. Thus, U.K.-based direct-to-consumer company Earth & Wheat chose the moniker "wonky bread boxes" for its products, which consist of cases of mixed varieties of fresh bakery bread, among them products as varied as pita, rolls, pancakes, buns, and wraps, as well as many others, that would otherwise have been wasted due to appearance standards or overproduction.
Earth & Wheat was launched in 2021 to address food waste, and in particular, bread. According to the company, in the U.K. alone, 24 million pieces bread are wasted each day. Earth & Wheat's wonky bread boxes, which are said to be the first and only such products in the country, are available to D2C customers throughout England, Wales, the Isle of Wight, and Scotland (with some exceptions) on a subscription basis. The company works directly with bakeries, rescuing bread immediately after baking that would otherwise have gone to waste. It then ships its customers 2-kg boxes of the fresh, but wonky, bread directly from the bakery overnight, donating a meal to charity for every box sold.
The sustainability stats for the rescued bread program are impressive: Every box saves 3,240 liters of fresh water and 3,053 grams of CO2 from going to waste. Until recently, however, the company felt its packaging was not optimal from an envioronmental standpoint. While its wonky bread box is made from recyclable corrugated, the primary packaging consisted of a plastic bag—a format that was incompatible with the brand's values.
To address the disconnect, Earth & Wheat switched to a home-compostable, bio-based bag, the C-Bag from KM Packaging, as the primary package for its bread. The C-Bag was developed by KM in partnership with Treetop Biopak and is made from renewable resources such as cornstarch and other biopolymers. The film is said to have similar properties to petroleum-based plastic, including impact, puncture, and water resistance, and provides a comparable look and feel.
In terms of compostability, the C-Bag is certified by TUV as OK Home Compostable. This certification was developed to guarantee complete biodegradability in garden compost heaps and other slower-paced processes. According to Treetop, when the C-Bag is properly disposed of, it will disintegrate in a compost heap and then biodegrade into CO2, water, and biomass, leaving no harmful residue behind.
---
---
For Earth & Wheat, the C-Bag also ticked two other boxes as well: The material is printable for branding purposes, and it's compatible with the company's automated bagging equipment. Shares Earth & Wheat, the printing on the bags has strengthened the brand, generating more interest and increased customer subscriptions. In addition, the artwork contains a QR code that leads consumers to information about the packaging and how to dispose of it.
Says company founder James Eid, "Our mission is to reduce food waste in the U.K., and we're always looking at innovative ways to become even more sustainable. By using home-compostable bags in our bread boxes, we have found a great alternative to using plastic."
---
---
Companies in this article