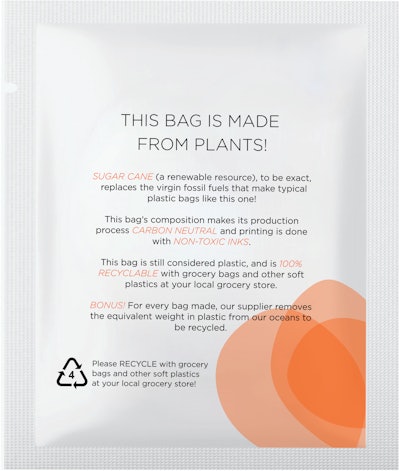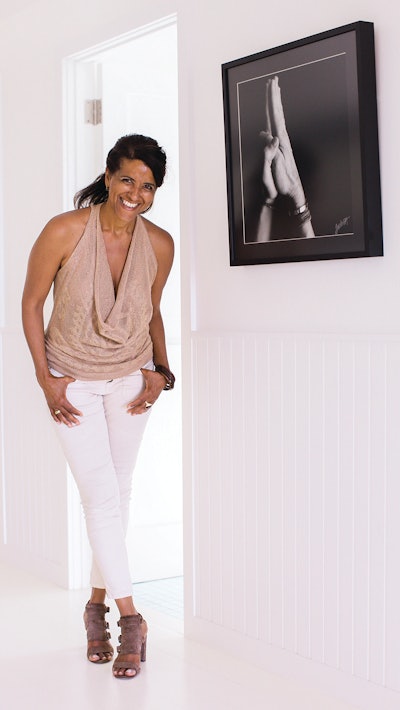 Nuudii System offers grab-and-go "boobwear," or a bra alternative, that gives women an option between wearing a bra and going braless. Nuudiis are hardware-free and made of 73% nylon and 27% spandex. Since the product is compact and only weighs 1.5 oz., it's not sold or displayed in retail like typical bras. Instead, Nuudiis are sold packaged and sealed on retail shelves, online, and in special vending machines found in airports, spas, and other likely spaces.
Given the product's unique shape and retail goals, Annette Azan, Founder and CEO, realized the company needed to come up with a package that lent itself well to the places Nuudii wanted to sell into, all the while prioritizing sustainability and user experience.
Packaging World:
When you're planning to sell a product in a retail setting like a vending machine, how do you create effective branding to make sure it stands out to customers without being handled and inspected like it would be on a retail shelf?
Annette Azan:
The beauty of a vending machine is that you've got a digital advertising component, which can also be your educational component for the product. The product shows well on digital advertising, which is included on the outside or interface of the vending machine. The packaging was a critical part of the branding, though, because Nuudii will never be sold outside of a package or hanging on a hanger in a store. The packaging we have today took a year to develop because we couldn't find anything that protected the product, that was sealed, and that allowed fine printing. We have printed photography and a size chart on the package. Because Nuudii is small, we needed to have the ability to fine print without losing quality.
Even though the Nuudii package is compact, you have detailed depictions of how it can be worn and an extensive size guide printed on the back. How important was it to have product education on the package?
We had a lot of time to come to those conclusions of what should be on the packaging. We wanted to eliminate extra inserts in the package. Originally, we had an insert that showed you the ways of wearing it, but I wanted all this information on the outside of the package. What we are doing here with "boobwear" is different, and it's a grab-and-go product. We knew including these graphics was essential for the customer and the understanding of what they were getting inside the package.
When you created this product, was sustainable packaging something that was important to you?
It took years from the inception concept that happened to development, but we did a test site before we went to Kickstarter, and from that moment, we had plant-based packaging, but it was really simple. Our bags were made from corn originally, but they were non-branded. We just launched a new package that's made of sugar cane. It's 100% recyclable and printed with non-toxic inks. There's also a bonus to the production of it that for every one of these bags made by our supplier, they remove the equivalent weight and plastic from the oceans.
How are you communicating the sustainability of the package?
On the back of the package itself, we note that it's made of plants and is recyclable, but we're also building out a page on our website to include more information about our product's packaging and its recyclability.
Do you feel that it is a brand's responsibility to communicate the sustainability and recyclability aspects to consumers on the package?
Yes, it is on us and also the type of recycling that needs to be done, right? This is a soft plastic, so you could recycle it at the grocery store. We have a lot of customers that come out and actually make it a point of asking those questions.
Being an emerging brand that launched with sustainability in mind, what kind of advice do you have for small brands who want to come to market with a product that also comes sustainably packaged?
It's easier to start with sustainability from the beginning rather than try to pivot when you're big. I think that's a huge opportunity for a startup. Usually, we're the pioneers. We're the ones who are paving that road so that the bigger brands feel like they have to catch up.
---
---
You mentioned switching the packaging material from corn to sugarcane because you wanted a softer feel. How important is it to create an experience with product packaging?
Even though Nuudii is not in the luxury category, the packaging is beautiful and soft to the touch because this is an intimate product. You want all the sensory things that come along with it to take place for consumers as the first CPG "boobwear" company. The color isn't a stark white, it has milkiness to it, which again, from a sensory point of view, nothing is stark. Everything feels luscious. The whole packaging makes you feel like this is a little bit of a luxury to have.
You say that Nuudii System is the first "boobwear" CPG, can you expand on what that means?
When people think packaged goods, they think consumables. But that's not the only packaged goods that we have. We knew from the start Nuudii would never sit on a hanger or anything because it's completely formless. It has no street appeal, and it also molds to your natural shape so you don't want a lot of people to try it on. Having Nuudii be a packaged good, it also allows a lot more stores to be able to carry boobwear like Sephora, airports, resorts, and college campuses. Easy access is really important for this product. PW