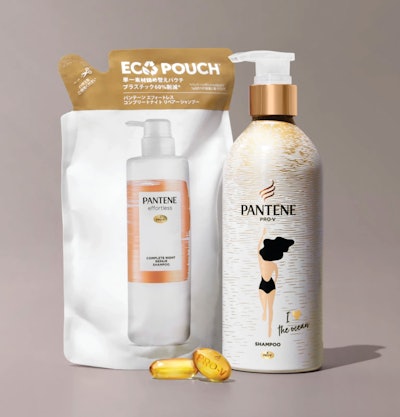 In Japan, popular P&G haircare brand Pantene is taking an on-trend route to an improved sustainability profile with a lightweight, beautifully decorated aluminum bottle that's reusable after its contents have been emptied.The bottle is meant to be refilled with shampoo or conditioner via recyclable pouches, with flexible packaging supplier Zacros providing a unique, monolayer polyethylene solution.
The Pantene stand-up pouch, which Zacros describes as "Japan's first ever monomaterial refill pouch," is a PE/PE adhesive lamination where the adhesive provides barrier yet does not interfere with the PE recycle stream. The idea here, of course, is for the consumer to pour the contents into a reusable rigid container and then dispose of the pouch in the PE recycle stream.
---
---
The challenge that Zacros had with this monomaterial pouch development was selecting proper materials with only the use of adhesive, ink, and barrier materials of less than 5% by weight, that still provided durability for the liquid.
With the company's unique converting technique, it was able to achieve an oxygen permeability of 4.6cc/m2/24 hours at 30°C, 70% RH condition with two PE layers. By comparison, a single PE film had over 1000cc/m2/24 hours at the same condition. For a hair care product like Pantene, the oxygen barrier property becomes a vital parameter to prevent the permeation of fragrance. In addition, the Water Vapor Transmission Rate (WVTR) of the monomaterial pouch was 1.5g/m2/24 hours at 40°C, 100% RH, while the WVTR of a single PE film was over 2.6g/m2/24 hours. The WVTR is an essential variable in determining the shelf life of products like these.
The company says this monomaterial pouch can withstand a drop test for horizontal and vertical orientations, respectively. This P&G Japan monomaterial pouch is only 350-mL. However, Zacros has already extended the development of monomaterial pouch size up to 1.3 L with the durability necessary for liquid products. PW

Companies in this article