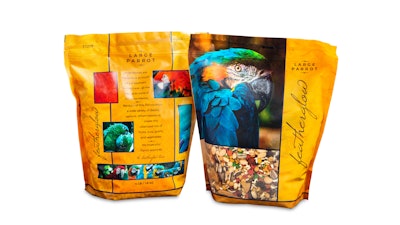 Volkman Pet Products is known for its Featherglow line of quality bird seed blends. Recently, the company updated its packaging and added a carbon dioxide flush to eliminate oxygen from the product and ensure that its customers get a fresh bag of quality seed.
Creating a fresh, pest-free seed product can be a challenge since insect eggs and larva can be hard to detect when seeds and grains are being harvested and then packaged. To showcase the freshness of its product while also creating a package that stands out on shelves, the company partnered with PPC Flexible Packaging (PPC) on its Volkman Seed Featherglow Large Parrot Bag.
This bag immediately draws attention with its vibrant colors and captivating image of a blue-and-gold macaw, and a see-through window allows shoppers to ensure the product is fresh and pest-free.
According to PPC, this package was printed on both digital and flexographic printing presses to meet SKU and production run requirements, which is normally a difficult challenge in quality matching.
---
---
Using Project Blue, a patented anilox and screening technology that delivers ultra-high-definition quality comparable to 300-line screen, PPC met the quantity needs of the customer while also matching the digital quality.
As a result, the Volman Seed Featherglow Large Parrot Bag was awarded a Gold Flexible Packaging Achievement Award in the Printing category from the FPA. PW