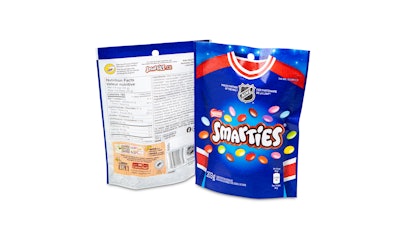 In mid-2021, the big news from Nestlé Europe was its successful transition from flexible film to paper packaging for 419 SKUs of its popular Smarties brand chocolate candies. It was two years in the making and a first for the confectionery industry. At the same time, Nestlé Canada had the same ambitions for its bottom-gusseted, stand-up Smarties pouch. For this, it enlisted the help of American Packaging Corp. (APC). Given the paper used by Nestlé Europe did not have the required FDA approvals in the U.S. and Canada, APC needed to chart its own course in creating the paper replacement. Its development of a recyclable SUP made from paper with a plastic-free barrier earned APC two FPA Gold Awards, for Packaging Excellence and Technical Innovation, and a Silver Award for Sustainability.
---
---
APC Manager of Innovation & Sustainability Jeff Travis explains that the key goal of the project was to mimic the functionality of plastic-based packaging while maintaining speed on press. "Developing a paper structure to replace conventional plastic can be challenging, since there are key differences when it comes to printing, pouch-making, and package performance," he says.
The bag material developed by APC and converted into premade pouches for Nestlé Canada comprises Forest Stewardship Council-certified, surface-printed paper, a heat-resistant overlacquer, and a water-based dispersion coating. The key in selecting the paper was to find a grade that could meet the requirements for toughness, high print quality, seal strength, and consumer acceptance, without the addition of film. Nestlé Canada especially required the material to be durable enough to handle forming and tucking of the SUP's bottom gusset, merchandising with a hangtag, and handling.
APC arrived at a toughened grade of paper (specifications are proprietary) that not only met requirements for robustness and durability, but also enabled a synergy between a special heat-seal coating and the paper's fibers. The material begins its conversion by being gravure-printed in an average of nine colors, depending on variety.
---
---
The proprietary overlacquer, applied in-line on the press, adds heat-resistance, protects the surface-printed paper from rubbing and scuffing in use, and offers the required coefficient of friction needed for the material to run smoothly on the conversion equipment. The also-proprietary dispersion coating—applied on a separate coater to accommodate longer drying times—was selected by APC for its enhanced seal performance and resistance to chocolate and grease. Applied in a very thin layer, the coating has been shown not to interfere with repulpability, making it recyclable.
Concludes Travis, "Achieving the optimal combination of paper and coating was key to this sustainable packaging. This was rewarding in reducing dependency on fossil-fuel materials and giving consumers a paper structure that offers sufficient durability, presence on shelf, and product protection." PW