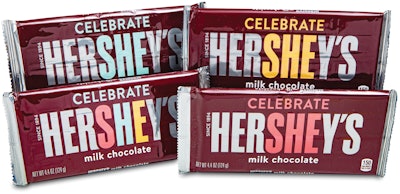 Perfectly positioned, with its name containing the three letters "SHE," The Hershey Company tweaked its packaging for the first time in its history in March 2021 in support of International Women's Day—an initiative near and dear to Hershey and its customers. Taking on the challenge of replicating the brand's iconic metallic lettering, but in blue, yellow, and red on a digital press was Printpack, which has been honored with a Gold Award in Shelf Impact from the FPA for its efforts.
The Celebrate SHE Campaign was undertaken as a form of unique media and a vehicle to celebrate acts of courage and determination by women. As part of the campaign, Hershey created a small batch of bars with wrappers emphasizing the SHE in its name, capitalizing the letters and printing them in different colors. Four versions were created: three of the four used a single, but different color for SHE, the fourth used all three colors.
---
---
According to Mark Brogan, Senior Director of Marketing for Printpack, one of the challenges of the project was that Hersey wanted to keep the silver metallic look for the other letters, however silver metallic ink was not available for digital printing. "Printpack collaborated with [prepress company] Phototype and Hershey to develop the metallic look," he explains. "After several iterations, a white screen over metallized foil replicated the silver-metallic look of the brand. The print web was reverse-printed and adhesive-laminated to the sealant film."
The limited-edition bars were distributed to the first 1,000 visitors at each of Hershey Chocolate World locations, in Hershey, Penn., New York's Times Square, and Las Vegas. Says Brogan, to minimize waste and obsolete inventory, and to ensure the four versions were equally distributed, they were run in an A-B-C-D sequence on the press. "The bars went from concept to creation in a mere four weeks," he adds.
---
---
The campaign generated considerable earned media, Brogan shares, with hundreds of posts, reposts, and likes on social media platforms. The story was also covered by local and national news outlets, for additional earned media. "The idea of using limited-edition products as a form of media means the packaging must take center stage," he says. "The packaging essentially becomes the brand ambassador. It's like an ad, but better, due to its potential social impact. This puts packaging in the realm of more than just protection and is a way to advance the use of flexible packaging."
Companies in this article