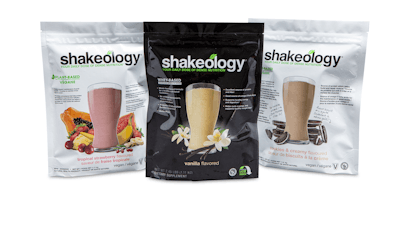 In a recent product launch, Beachbody® partnered with American Packaging Corporation (APC) to debut its Cookies & Creamy flavored Shakeology® brand stand-up pouch. This pouch is novel as it incorporates 45% post-consumer recycled (PCR) content at a minimum, earning it Gold recognition in the 2022 FPA Awards for Sustainability. But the recognition didn't stop there. It's also great looking pack, taking home a Gold Award in both Packaging Excellence and Shelf Impact, as well.
"While the initial push was to bring to market very quickly, it was important that we do our due diligence in the areas of product integrity and supply chain concerns with regards to PCR availability," says Sanford Fitelson, Senior Manager, Packaging, Beachbody. "Beachbody is very pleased with the results and so excited about the progress we've made that we've continued our sustainability journey into other areas."
---
---
The pouch is a flexographically printed multi-material lamination of PET, MET PET, and LLDPE produced at APC's Story City, Iowa facility.
"We designed the packaging to make sure it provided robust performance, including maintaining the barrier and stiffness," says Seth Holmen, Corporate Director of R&D and Technical Solutions, APC. "One interesting fact about the package is that two of the three layers used to create this package have 90% PCR in them, which is a very high level of recycled content. We wanted a consumer-friendly package that was easy to open and that would grab the consumer's attention from a print/graphic quality standpoint, all while transitioning to post-consumer recycled content."
According to Fitelson, flexible packaging saves a lot of space. It takes 11 trucks to transport a year's worth of empty bags to his manufacturing/filling sites. Conversely, it would take 177 trucks to transport empty jars and caps to those filling sites. Meanwhile, consumers are starting to seek out these qualities. For instance, what once were perceived as superficial flaws in PCR—at least in comparison to pristine, fossil fuel-based virgin resins—are now seen as negligible. Or better yet, they are seen as visual evidence that the pack is indeed more sustainable.
"An interesting fact about all flexible materials containing PCR is the appearance of small bumps, which is PCR content on the outside of the package. After shelf life and performance testing was complete, we produced a full lot of finished product and tested it with our customers to see if there was any negative feedback or perceptions before the full launch," Fitelson says. "The good news is the minor cosmetic differences were not seen as a negative to our customers."
Quite the opposite, the packs look great. The quality of the photographic images APC produced was key, as well as a combination of the highest-quality separations, HPE Flexo™ high-resolution plate imaging, state-of-the art printing presses, and the most skilled press technicians that use tried-and-true methods to achieve the desired outcome, Holeman adds.
While it launched in Beachbody's new Cookies & Creamy flavor, the project went so well that the new PCR pouch material was rolled out across all of the brand's flavors, including all single-serve packets. The company is also converting other flexible pouches and singles used for its Daily Sunshine, 3-Day Refresh, and an entire new lineup of Ladder brand of supplements. PW
Companies in this article