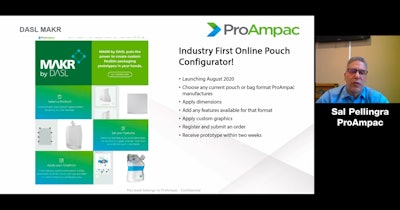 In development before COVID-19, but fast-tracked once the pandemic hit is ProAmpac's new online packaging design configurator, MAKR (pronounced "Make Er"). MAKR allows users to remotely create custom 3D package designs online in both film and paper formats that can then be prototyped at the company's Design and Sample Lab (DASL, pronounced "Dazzle").
According to Sal Pellingra, Vice President Global Application & Innovation for ProAmpac, one of the main reasons the company developed the tool was to reduce the time involved with the traditional sample request system. Typically the process is very iterative, with much back and forth between the customer and salesperson as the customer adjusts their vision for the design. MAKR, he estimates, can take a week off of the prototype design process.
"No one has time these days, and so we looked at similar apps for designing—you know, if you were to design shoes online or if you were to design some other product online where you go in and change colors and you can spin things around and look at them," says Pellingra. "That was kind of the thought behind this. Fortunately, we got this almost done at the end of the year, and then when COVID happened, we just ratcheted the project up to get MAKR launched because then everyone was working from home and it was even more important to have it done."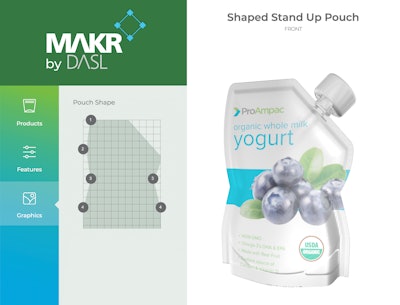 MAKR allows users to choose almost any flexible packaging format ProAmpac produces. The user can then custom design their own package employing features such as package dimensions, closures, handles, and even the shape of the pouch. An ingenious feature of the tool is that it only allows customers to choose features that can actually be manufactured.
Shares Pellingra, many times ProAmpac has worked with brands that submit a number of pouch designs created by a designer that end up not being able to be produced. "We have to be the bearer of bad news and say, 'This one isn't really manufacturable. This one we could probably manufacture, but we can't sell this one. There's no way to develop this.' And so one of the benefits of MAKR is that it ensures the prototype they design can be filled and made."
Options include pouch styles like flat, pillow, flow-wrap, stand-up, shaped quad, and even retail bags, among others. Pouch dimensions can be easily adjusted as can the shape of the pouch. Closures such as child-resistant zippers can be added, as well as a number of fitments. As the user manipulates the pouch, options are added or deleted, depending on whether they are available with that design. If a customer would like a design feature that's not available through MAKR, there is an area where they can add notes for the DASL team.
One unintended consequence of the tool, Pellingra adds, is that it gives users the ability to explore new ideas they may not have been considering going into the design process. "Even just scrolling through the different pouch types when you start the process you start to think, 'Oh, I was thinking about a pillow pouch, I didn't even think about using a shaped pouch,'" he says. "And then you get into the features, and you start thinking, 'Maybe I wouldn't want to hang this pouch, which I didn't even think of either.'"
Further enhancing the prototype, users can add graphics and logos to the pouch design, with the added ability to change colors, artwork, and materials. Currently, Pellingra notes, to visualize how a pouch design will look depending on the material type, consumers can select options such as clear or opaque film, foil lamination, and bleached paper.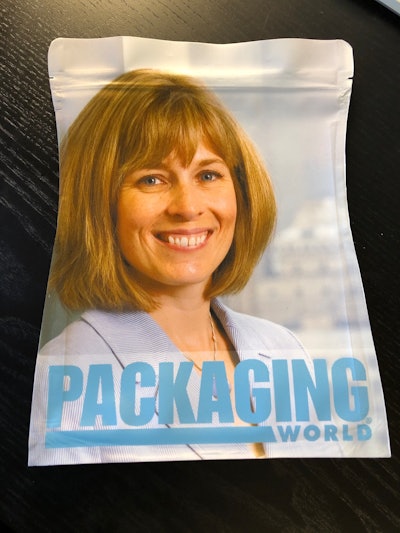 When the prototype design is complete, users submit their order online, with the total cost calculated using an algorithm that determines how long it will take ProAmpac to produce the prototype and the number of prototypes ordered. ProAmpac's DASL team will then ensure all details are correct, finalize the order, and create and ship the custom prototype directly to the customer. In a pre-PACK EXPO Connects interview, Pellingra quickly designed and placed an order for a prototype of a shaped pouch with custom graphics that was FedExed to this editor's home in just a couple of days.
As Pellingra shares, ProAmpac and its proprietary partner had to start nearly from scratch in creating the program, which he says, as far as the company is aware, "is the first totally configurable pouch app in the industry." Currently, they are working toward MAKR 2.0, which will offer more photorealistic graphics and additional pouch shapes.
The tool is available free for both existing and potential ProAmpac customers. Thus far, Pellingra says, the company is getting 40 to 80 users per week. "This is another great example of ProAmpac's industry-leading innovation. We've consistently differentiated ourselves, not only with world-class manufacturing, but also by providing packaging design services rivaling those of design firms. MAKR expands our collaborative resources and makes it easier for customers to get products from design to market in record time," he adds. "We've already had great feedback from our soft launch partner customers and will build out MAKR and other virtual capabilities to continue to make it easier for customers to bring new packaging ideas to a commercial reality."
To view demos from ProAmpac (available through March 31, 2021) and to add the company to your MyConnects Planner, click here.
Also, be sure to watch ProAmpac's Innovation Stage presentation, "Collaborative Resources to Speed New Package Launches with Real World Examples of Sustainability and Functionality," featuring Sal Pellingra and available here.

Companies in this article