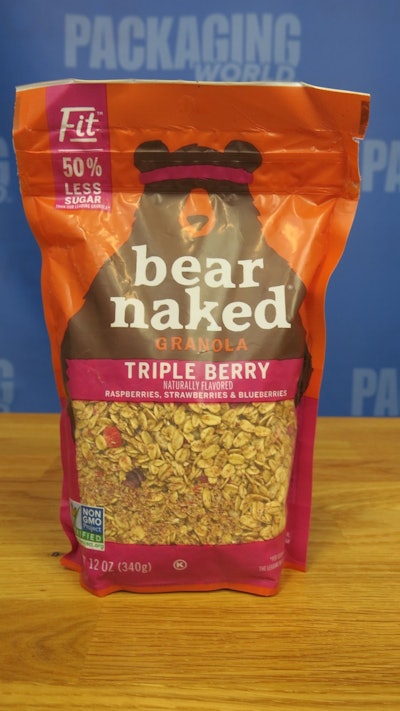 According to the Flexible Packaging Association (FPA), flexible packaging already comes with some endemic sustainability benefits that relate to source reduction: less material going into landfills, extended shelf life/reduced food waste with reclosability, and fewer greenhouse gas emissions compared to rigid packaging.
But creating a consumer-friendly circular path with recyclability has been an obstacle to flexible packaging. Consumers pay less attention to how a package is made and transported than they do to how they dispose of that package. And until recently, most people threw stand-up pouches in the trash, since the multilayer material is verboten in curbside recycling. Now that's starting to change thanks to increasing adoption—slow, but certain—of an augmentation to traditional curbside recycling.
Dow's RecycleReady Technology and the Sustainable Packaging Coalition (SPC) promoted this new option for packaging manufacturers and brands in the form of in-store drop-off centers for multilayer polyethylene.
By using a certain portfolio of resins, adhesives, and compatibilizers, packaging manufacturers can produce recyclable multilayer flexible packaging. Flexible packaging using these materials can be easily recycled through existing PE film recycle streams, such as grocery store drop-off programs, in the U.S. and Canada.
Also in North America, when brand owners and retailers request RecycleReady Technology from their converters, their final package structure can be submitted to the SPC to qualify for the How2Recycle label. The label instructs consumers to visit how2recycle.info to learn how to use alternative recycling streams to curbside for previously unrecyclable stand-up pouches.
"At least now there is an emerging infrastructure and an emerging stream where consumers, once they're educated, can figure out that they can have the best of both worlds," says Chuck Ditter, Sales Manager, North America, Fresh-Lock , the zipper closure manufacturer on the Kellogg/Bear Naked project. "They'll realize that they can get that wonderful stand-up pouch that we liked so much, and the brand can still get the properties they need out of the film in the package. Ultimately, the consumer now can feel good about being able to bring this back to their store drop-off."
Commercialized pouch from Kellogg Company
The Bear Naked brand of granola, a Kellogg Company product, launched a new, fully recyclable stand-up pouch that now "bears" that How2Recycle logo. It was an 18-month journey involving multiple packaging suppliers. There were many materials and components used to manufacture the flexible pouch, and each element needed to meet certain requirements for the entire package to be easily recycled by consumers using in the in-store alternative to curbside.
Kellogg wanted a way to make it easier for its loyal customers to recycle their packaging. The target market for granola-eaters likely includes many people who care deeply about the environment and want to recycle their waste whenever possible.
Kellogg had been using a service for its Bear Naked granola packaging that required consumers to sign up for a special program and ship flexible pouches to a location for recycling. That's a lot of work. Instead, the company wanted to allow consumers to bring used pouches to retail stores, using the How2Recycle program's store drop-off, which is much more convenient.
However, before that could happen, Kellogg needed a recyclable film structure for its Bear Naked packaging that would be acceptable at these drop-off locations.
Film selection
The biggest challenge in recyclable flexible packaging is the film structure. While these packages are lightweight and thin, there are actually many layers of material involved in the manufacturing of films used for flexible pouches.
In order for a flexible package to be dropped off at front-of-store collection bins, a single-source, PE film is needed. Berry Global's nine-layer Entour™ film structure, a high-density PE material, fit the bill, but it also provided important features beyond recyclability. The film structure surpasses Kellogg's barrier requirements for shelf life, features a clear window to showcase the product inside, is stiff enough to stand up on store shelves, and can be hermetically sealed.
Resin used
The film that Berry Global manufactures is possible thanks to innovations from Dow. Dow's RecycleReady Technology includes PE resins for film structures that are approved by the SPC for the How2Recycle drop-off initiative.
According to Dow, its RETAIN™ polymer modifiers are compatibilizers that "allow converters to recycle barrier-film trim back into film production without sacrificing optical or physical properties."
Dow also provides a high-performance sealant that helps meet the fast-paced production line speeds for machines producing hermetically sealed packaging.
Color printing method
Every facet of a flexible package must fit within the parameters of recyclability. Plus, as packaging materials change to achieve this objective, packaging engineers must make sure other materials and components still function as expected. That includes the ink applied to films, which is important if you want your package to be attractive and on brand.
To capture the attention of shoppers, Colormaster's registered matte finish was applied to the pouch to reinforce Bear Naked's brand image. The finish also provides extra heat resistance so the package runs more efficiently on machinery.
Reclosable zipper closure
Reclosability is a major feature of Bear Naked's stand-up pouch. But, it needed to have a zipper that could be recycled along with the special film. Fresh-Lock developed a unique line of closures that supports sustainability efforts. The Bear Naked package utilizes zipper style 8113 from the Fresh-Lock® 8000 Series.
"Our key to this is that our zipper in and of itself was already low-density polyethylene. So in and of itself, it is recyclable," Ditter says. "The key though is these film structures and the way our zippers seal to them. We had to do some optimization of our zippers to make sure they worked with this film and sealed well and sealed within the temperature and pressure and time parameters of their process."
Zipper style 8113 from Fresh-Lock's 8000 Series is specifically designed to seal to recyclable PE films, an attribute that not all closures can properly achieve. As a bonus, these zippers also enable faster packaging machine speeds and reliable sealing to avoid channel leakers.
Sustainability and reclosability are two important packaging features to consumers, and this closure for flexible packaging supports both. In addition to allowing consumers to recycle a resealable stand-up pouch, it also ensures their granola stays fresh. Because nobody wants to eat stale granola bites.
Live at PACK EXPO Las Vegas: The Bear Naked pouch collaboration explained by stakeholders
Presenting at the Innovation Stage at PACK EXPO Las Vegas, Ashley Leidolf and Holly Dunnill of Dow, Shannon Moore of Kashi, and Paul Wolak of Berry Global explained how a cross-team collaboration between brand and suppliers made Bear Naked's packaging more recyclable and sustainable.
When the brand was launched in 2002, Bear Naked chose not to use bag-in-box, becoming the first granola brand to be offered in a pouch. Sustainability was important to the brand owners, so the packaging changed from 2008 to 2018 and was offered in a pouch that could be upcycled by TerraCycle—it was the number-one selling brand with 500,000 units recycled. Shannon Moore, Lead Packaging Engineer at Kashi, said that a few years ago the brand owner came to her and asked what it would take to "go beyond" TerraCycle and get to curbside or store drop-off recycling.
Because recycling is also important to the brand's consumers (most of whom are under the age of 40), Moore said that the number one customer comment has been, "How do I recycle this bag?" When the decision was made to change to a more sustainable package, Moore said the brand wanted to keep the same look for the consumers, so it was important to maintain the production speed and clarity of the package to keep the print enhancements such as as matte coating on the surface.
The brand was having trouble finding a good solution for a hermetically sealed bag, which is necessary due to the number of whole nuts and dried fruit in the product. Kellogg and Dow already had a partnership in place, so Moore engaged the internal team to find a solution by working with Dow.
"The first thing we did as a team," said Moore, "is walk them through our entire manufacturing network to see how we operated, so that each supplier could work together."
Paul Wolak, Senior Technical Director at Berry Global, said that when working on the project and taking shelf life into consideration, they "focused on how to deliver a better moisture barrier and better oxygen barrier as a starting place." The team landed on a mono-material recycle-ready nine-layer structure that satisfied all of the necessary properties.
Said Holly Dunnill, Marketing Director at Dow and the moderator of the presentation, "What we've created here as a team is really a multi value-chain effort to create a package that can be fully recyclable and be used with cases that need barrier."
The brand is on a mission from the top down to comply with 2025 recyclability goals and is now six years ahead of schedule to comply.
Companies in this article