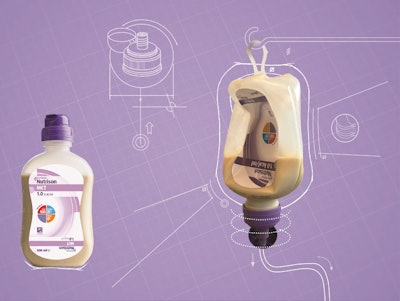 The Packaging Innovation Awards' judges awarded the OpTri bottle a Diamond Award Finalist.
The liquid food is released from a closed system thanks to gravity alone, which forces the bottle to collapse as product exits. Because it's a closed system and requires no air inlet, the risk of air or environmental contamination is greatly reduced. The ergonomic shape of the bottle, integrated big-eyed hook for hanging, and easy-to-navigate label ensure time savings for health care professionals. The non-detachable flip-top cap requires less handling and is more hygenic. Using reclaimable and recyclable material, the OpTri bottle uses 85% less water than the previous pouch production process and brings a 21% reduction in carbon emissions. Third-party validation of these assessments came from Vertegoo.
Some details about the packaging were not available at press time. But Danone says this is a multi-layered bottle that is extrusion blow molded. It comes in both 500- and 1,000-mL sizes. Neck diameter is 37 mm. Pressure-sensitive labels are applied inline. Filling is done aseptically on unnamed equipment. The aseptic filling is a key factor in the reduction in water usage and the reduced carbon emissions because the pouch used formerly had to be retorted. The OpTri bottle has a 12-month shelf life at ambient temperatures.
Judges' Criteria
In evaluating entries, jurors considered excellence based on the following criteria:
Technological Advancement
• New and/or clever use of materials
• New technology integration and/or rapid technology development/prototyping
• Creative configuration and/or assembly
• Increased production and/or distribution efficiency
Responsible Packaging
• Responsible use of materials
• Clean and efficient energy consumption
• Reduction in product and package waste
• Benefits the greater good
Enhanced User Experience
• Fulfills a user need and/or provides an enhanced experience
• Aids product merchandising and motivates purchase
• Enables greater product accessibility
• Establishes a preferred price/value equation
The 2019 Packaging Innovation Awards represent the packaging industry's longest running, independently judged competition. They honor innovations in packaging design, materials, technology, processes, and service across the entire packaging value chain. Inaugurated in 1986 by DuPont, the program's tradition of excellence is now proudly continued by Dow.
Calls for entry began in January 2019, with judging beginning in May and winners ultimately announced on Sept. 17, 2019. Packaging World editors were granted early audience with award finalists, prior to their announcement, in order to provide timely reports on winning innovations.