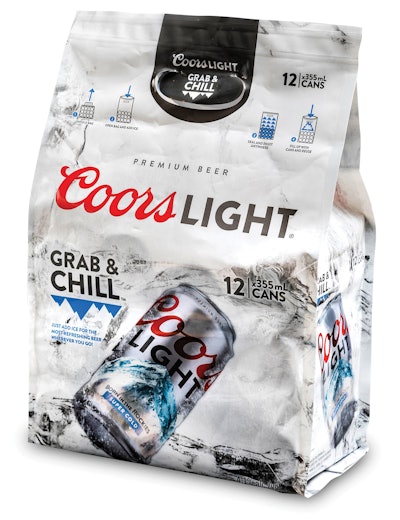 Winner of the Highest Achievement Award in the 2019 Flexible Packaging Achievement Awards Competition was the Molson Coors 12-Pack Cooler Bag. Made by Bemis Co. Inc., the reusable cooler bag won Gold in the category of Expanding the Use of Flexible Packaging, Gold in Printing & Shelf Impact, and Silver in Packaging Excellence.
The conventional pack format for 12-packs of canned beer is a handled paperboard carton. While it certainly gets the product to its destination, it's of little use after that. The Cooler Bag, on the other hand, is designed to be opened up and filled with up to 5 lb of ice, thus replacing the traditional, unusable beer carton into a portable, convenient, multi-use cooler.
While not sharing precise material specifications, Bemis describes the bag as a multilayer adhesive lamination produced in a single pass. The outside layer of polyester gets printed in 10 colors on a flexo press. Graphics, notes Bemis in its FPA entry award form, are marked by a high gloss that conveys an ice cube effect and reiterates the Molson Coors brand message that this is the most refreshing beer. Ink system durability, notes Molson Coors, was essential since the bag must withstand exposure to moisture for extended periods.
Among the design factors worth noting is handle strength. "The film structure and handle design can withstand more than 100 lb of force, ensuring it never breaks during use," says the FPA entry form.
Perhaps the cleverest aspect of the cooler bag is the way that it folds down compactly so that it fits seamlessly into the widespread and traditional display of 12-count paperboard cartons. Side gussets help in this regard, as does the application of a label on each side to ensure that the bag keeps its brick-like orientation through distribution and in-store display.
Another interesting feature of the award-winning bag is the inclusion of a hook-and-loop style fastener from Aplix. This fastener comes in handy once the bag has been filled with ice. First, it makes it possible to close the bag at the top, thus preventing heat gain that would melt the ice. Second, it adds heft to the handle, thus making it less likely to tear or break.
The cooler bag is produced on what Bemis describes as a conventional pouch machine used to make pouches for applications in industries such as pet food or lawn and garden products. "This innovative technology," says Bemis, "has hermetic, liquid-proof, high-strength seals with a punch-out handle for maximum consumer hand comfort. Prior offerings utilized a separate patch or extra material in the seal area to provide carrying comfort, whereas this new technology was designed with consumer comfort in mind without requiring additional materials."
When asked about the cost of the cooler bag, Bruce Smith, Senior Director of Global Packaging at Molson Coors, indicates that the version that made its way into stores in Quebec and Ontario last summer cost something like five times what a conventional folding carton might cost. But that package, he emphasizes, was a test.
"We wanted it to be bulletproof so that there would be no failures in the field," says Smith. "Otherwise we would not have gotten an accurate read of what consumers thought about the concept."
As it turned out, consumers liked the concept so much that Molson Coors will now turn to optimizing the test-market version. A key objective will be to come up with a more sustainable version, "one that is 100% recyclable in all of the municipalities across Canada," says Smith. "We'll be relaunching it in 2020."
To read more about the other Gold Winners click on the links below:
https://www.packworld.com/article/shaped-pouch-proves-integral-unique-wearable-breast-pump
https://www.packworld.com/article/new-product-meets-unique-set-requirements
https://www.packworld.com/article/grain-free-dog-food-line-appealing-spot-coated-graphics
To view photos of the Silver Winners, go to pwgo.to/4022.
Companies in this article