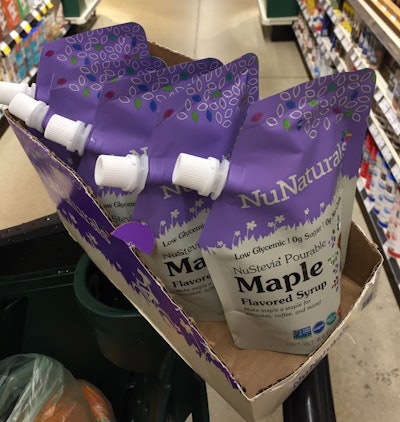 Like all of the natural, plant-based sweeteners, baking ingredients, and dietary supplements offered by the 28-year-old firm, the new line of Pourable Syrups are contract packaged. Company President Jake Sablosky chooses not to identify the pouch supplier or the maker of the machinery used to fill the 6.6-oz standup spouted pouches. But he thinks this format has some key advantages.
"First and foremost we saw it as a way to use less plastic than is used in our rigid PET bottles," says Sablosky. "Plus it's a unique form factor in our category, so it really stands out on the shelf. It's kid friendly, it's mom-friendly, and it seemed like a unique innovation to introduce."
The line includes maple-flavored syrup, chocolate syrup, vanilla, and two seasonal flavors: pumpkin spice and chai. Sold exclusively in Whole Foods and through Amazon until the end of April, the pouches are sold at retail in a six-count retail-ready corrugated case. Suggested Retail Price for a single pouch is $7.99.