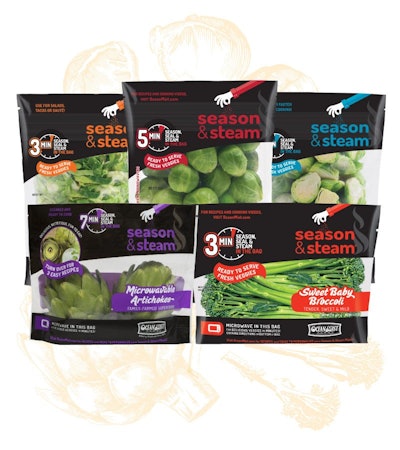 The Castroville, CA, firm calls its innovative line of products Season & Steam, claiming it's the only steam bag that lets consumers pre-season the vegetables and then reseal them by way of a zipper reclosure feature before steaming them in the bag. The Steamfast technology is from Mondi. Preceding the introduction of the Sweet Baby Broccoli, the technology has been used by Ocean Mist for artichokes and for three Brussels sprouts items: SuperShreds Super Food, Quick Cook Sprouts, and whole Brussels sprouts.
According to Mondi's Graeme Smith, Senior Technical Manager, what happens inside the microwave oven is that as the bag begins to inflate due to the steam that's generated inside, a valve designed right into the flexible film opens slightly to allow a small amount of steam to escape. What's produced in effect is a mini pressure cooker that cooks the vegetables at the optimum pressure to ensure that cooking is speeded up but vitamins and nutrients are retained and the vegetables remain crisp and not overcooked.
Currently produced in Europe, these premade bags are made from a proprietary laminated structure whose outside layer is reverse-printed polyester. Also part of the structure is cast polypropylene that serves as a sealant. As the laminated material runs through the slitter ahead of bag-making, it's microperforated by laser technology so that the fresh vegetables inside can continue to respire.
Laura Berlanga, Product Innovation & Research Manager at Ocean Mist, notes that the firm is primarily a bulk commodity type of grower. The nice thing about the Mondi technology is that it gives Ocean Mist a foothold in the consumer-facing world of convenience packaging that continues to grow increasingly popular in today's retail channels.
Companies in this article