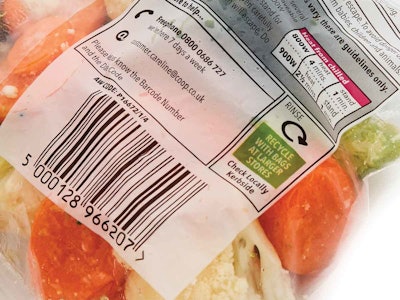 U.K. retailer Co-op has made a pledge to deliver 100% recyclable packaging by 2025 through its Project Closed Loop Strategy. Helping the retailer meet this goal is new recyclable polyethylene film for flexible bags of fresh vegetables that delivers the same protective, functional, and shelf-life benefits as existing non-recyclable solutions.
The new film is made from PE material very similar to the plastic found in carrier bags, which is easily recycled in the U.K. The packs will also carry the OPRL (On-Pack Recycling Label scheme) "Recycle with bags at larger stores" label.
Manufactured by Coveris at its Winsford, England, facility, the film is tailored to meet specific product needs with technical performance options that include high-barrier, microwavable, and easy-open functions for lap-, fin-, and weld-sealed formats. Explains Coveris, the development comes as part of a continued investment strategy at the site, enabling the manufacturer to scale up capacity to seamlessly manage increased demand for high-performance recyclable films, supported by its U.K. food science capability delivering product validation.
Having worked collaboratively with the Co-op to deliver other recyclable solutions, including a multilayer PE film for cooked meats that enables over 90% of the pack weight to be recycled in the U.K., Coveris has been a key development partner in supporting the retailer reach its ambitious recycling targets.
Says Iain Ferguson, Co-op Environment Manager, "We are delighted to work with Coveris to launch this landmark new recyclable film. A collaborative approach between industry stakeholders is essential if we are to deliver 100% recyclable packaging for U.K. consumers that also satisfies requirements around shelf life and functionality."
The film is now available across a range of prepared vegetable lines from U.K. supplier Freshtime U.K. Ltd. in stores nationwide.
Companies in this article