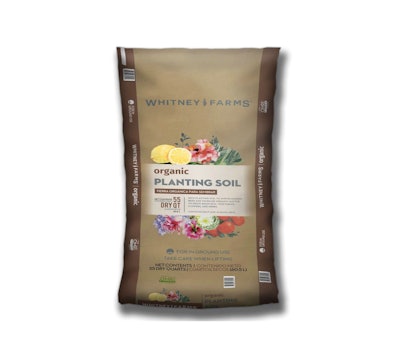 These include soil and mulch products, plant food, plant supplements, and plant care products, among others, formulated to support natural gardening practices. For its 28.3-L bag of Organic Planting Soil, Whitney Farms uses packaging that conveys its "one-with-the-earth" positioning, with beautifully-rendered plant graphics that pop with color and a matte overcoat that provides an organic look and feel. Provided by Trinity Packaging Corp., a division of ProAmpac, the bag was honored with a Gold Award for Technical Innovation as well as a Silver for Packaging Excellence by FPA judges.
The technical innovation represented by the bag is ProAmpac's use of UV surface printing combined with a specially designed high-COF (coefficient of friction) matte overcoat. In addition, Trinity developed a proprietary energy curing process to protect the package against UV color degradation, which Trinity says (in the FPA entry form) "is key to shelf appeal."
Trinity explains the advantages of UV surface printing: "UV surface-printed packages replace lamination processes and at the same time provide better chemical resistance properties and outdoor packaging longevity. This also provides customers with a more sustainable manufacturing process. It also provides an enhanced consumer experience, while protecting the high-end graphics of the package, which is produced all in one process—blown film, UV printed, and folded for filling, all in-line."
Trinity also selected the proprietary polyethylene film blend for the heavy-duty planting soil package. The material is printed in eight colors on the front of the bag and three colors on the back, with front and back registered together. The high-COF matte overcoat, developed specifically for this large-format package, eliminates product shifting as well as provides the bag's organic look and feel.
Among the sustainability benefits cited by Trinity, the Whitney Farms Organic Planting Soil package is surface printed directly on a recyclable PE web substrate, versus the use of a reverse lamination of two or more films. It also uses 100% energy-curable inks, which eliminates solvent ink and incineration processes.
Companies in this article