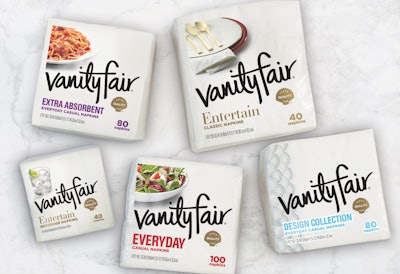 With its elegant, shell-embossed design and sophisticated image carefully cultivated for nearly 60 years, the Vanity Fair brand of napkins has a reputation as a product for special occasions. But a recent package redesign by parent company Georgia-Pacific along with brand design firm Flood Creative tones down the elegance to communicate its use for consumers' everyday lives.
"As our day-to-day customs evolve and become more relaxed than they have been in the past, we want consumers to know Vanity Fair has a product for every need, for napkins to use for more casual, everyday meals to products that provide the perfect complement to even their most formal entertaining occasions," says Lloyd Lorenzsonn, Brand Building Leader for Napkins at Georgia-Pacific. "We were seeking to better connect with our consumers through our packaging and convey the seamless nature of the brand."
The line includes five varieties, one of which underwent a name change from Impressions to Entertain, joining the other four napkin styles—Luxury, Everyday, Extra Absorbent, and Design Collection. Explains Stuart Whitworth, Chief Creative Officer of Flood, "The name was changed to better help consumers understand the role each style plays."
Most important in the redesign is the introduction of a new logo, with Flood replacing the formal, almost calligraphic script with a modern, casual black script. "It's still confident, but now more personal," says Whitworth. "The new script combined with the lower-case initials and the slight angle at which the brand name is written all come together to reflect more of how we write today. The gold shell is a new icon we created and is now a permanent part of the logo."
To compete with private-label and other paper napkin brands that highlight their products' functional and physical attributes only, packaging for Vanity Fair now includes food visuals, which Whitworth says have "such emotional social connotations." For example, Everyday has photography of a salad in a bowl, Extra Absorbent shows a plate of spaghetti, and Entertain Classic features a china plate with a gold spoon, fork, and knife.
Along with the food photography, a color palette that extends beyond Vanity Fair's traditional red—including purple for Extra Absorbent and gold for Entertain, among other colors—helps differentiate the product variations.
The new design was launched in December 2017 and was fully rolled out by January 2018.
Says Brian Rice, Senior Director, Packaging Design & Innovation at Georgia-Pacific, "Flood Creative was able to take a brand rich with emotional, visual, and tactile associations and use lifestyle cues to make it much more accessible. It was a step we needed to take in order to maintain our leadership position.
Companies in this article