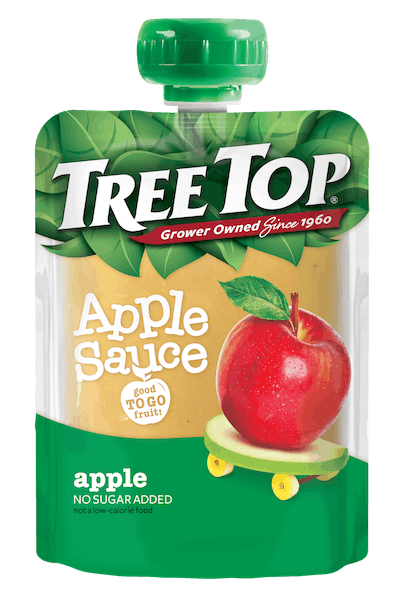 Tree Top, Inc.'s January 2018 introduction of a transparent pouch is said to represent the first of its kind in the applesauce category. The single-serve, portable pouch not only lets consumers see the product inside, but it also provides shelf-appealing graphics and a spout-cap closure that lets consumers squeeze out and consume the applesauce directly from the pouch—without the need for a utensil. In short, the pouch is fun!
Before the clear pouch launch, Selah, WA-based Tree Top sold applesauce in 4-oz cups, 3.2-oz pouches, and 47.8-oz plastic jars. But Bryce Godfrey, Director of Marketing, believes the company's latest applesauce package innovation "is set to be a game-changer within the industry."
He explains, "When fruit pouches were first introduced, the apple sauce pouches became instantly popular. However, like all packaging, if the seal is compromised, air can get in and ruin the good food inside. Tree Top believes everyone deserves good food, so we searched for a solution to return power to the people by allowing them to see our quality applesauce before eating it."
Tom Hurson, Tree Top President and CEO, says, "This new pouch mirrors our corporate belief in transparency, honesty, and trust. We wanted something that could appeal to a wide range of consumers, be it moms on-the-go or those looking for a fast, healthy snack."
Tree Top uses the BPA-free pouches for six 3.2-oz varieties of applesauce, all made from 100% USA Apples from its local orchards, along with other fruits, with no artificial ingredients.
Packaging provides integrity
For the pouch, Sonoco provides its ClearGuard™ high-barrier, clear flexible three-ply adhesive lamination that includes PET/PET/polyethylene and is rotogravure printed in eight colors. It provides an oxygen barrier of <.02cc/100 sq in., and a moisture vapor transmission rate of <.02cc/100 sq in. The pouch provides a gusseted bottom, with an injection-molded PE spout supplied by Menshen. The pouches are designed for an inline form/fill/seal process, with filling done through the top, prior to spout insertion and welding.
According to Sonoco, the structure had to be engineered to provide the appropriate barrier requirements for shelf life and Vitamin C retention, while being robust enough to withstand high filling temperatures—and provide excellent machinability to meet production efficiency requirements. Tree Top evaluated packaging from multiple suppliers, a process that included several rounds of shelf life testing and machinability trials.
Shelf-appealing graphics on the front of the pouch utilize color schemes to designate flavor/variety, and are printed with the Tree Top "Grower Owned Since 1960" tagline. Printing on the back of pouch includes nutrition facts, ingredients, and a "best buy" code. Despite the printing, the applesauce is clearly visible both from the pouch front and back.
Tree Top's Godfrey says, "We chose Sonoco because their film pouch solution met our criteria and held up to our quality testing, including making sure our fruit product retained its vitamin and nutritional impact."
The applesauce is best if consumed within a year of purchase. It must be refrigerated after opening. Once opened, it should be consumed within 24 hours.
Both Tree Top and Sonoco conducted consumer research on the film structure prior before the launch to ensure that it met stringent quality control tests, and maintained product integrity.
Godfrey comments on pouch clarity: "There are side-to-side clear panels on the front, back, and bottom of the pouch, which allow people to see the product inside and feel good about feeding it to their families.
"We chose to purchase the specific spout-cap closure because of its design, which provides tamper evidence and incorporates holes in the cap to help prevent choking if swallowed."
Hot-fill process
Tree Top operates seven production facilities near fruit-growing areas in Washington, Oregon and California. Tree Top fills the pouch internally, using equipment purchased a few years ago for the company's previously introduced applesauce pouches.
Tree Top uses two Mespack H-360 FEQ (four-up) hot-fill top-spout horizontal form/fill/seal Top Spout pouch packaging systems from Alliedflex Technologies. These produce four pouches/index, with an approximate output of 200/min.
The supplier describes the process as follows: The flat web stock is folded and heat-sealed to produce a bottom gusset pouch with die-cut, rounded corners. Formed pouches are cut into individual pouches and then transferred into a carrier system that opens the pouch mouth and bottom gusset in preparation for hot filling of the applesauce.
Filled pouches are subsequently indexed to the top-spout insertion station where four pre-assembled cap spouts are inserted at each index. Next, pouches index through a series of multi-stage top-seal heat and cool bars to provide the high-quality seals that help Tree Top confidently market the applesauce in clear pouches.
The finished pouches discharge from the Mespack machine and are picked and placed into Alliedflex's IXAPACK infeed conveyor system, which transfers the pouches into the a secondary IXAPACK packaging system. The secondary system includes four-lane individual pouch checkweighing for proper weight inspection.
Pouches then enter an enclosed vertical serpentine pouch shelf conveyor carrier/accumulation system that provides post-pasteurization using hot air in the first stage, followed by pouch cooling using cold air in the second stage. Discharged pouches are accurately controlled through "hands-free" pouch collation into a robotic top-load cartoning system that uses pre-printed flat chipboard blanks.
The pouches are placed robotically into printed paperboard packaging outer cartons. Tree Top produces four- and 12-pack cartons for retail, and 40-count versions for the foodservice industry.
Cartons are then checkweighed for proper counts and conveyed to the IXAPACK multipack case-packing system where final case checkweighing is performed, and finished cases are transferred to downstream palletizers.
Positive initial response
Tree Top uses the 3.2-oz clear pouches for Apple, Cinnamon, Strawberry, Mango, Tropical, and Mixed Berry flavors.They're available in either four- or 12-count paperboard cartons at retail stores throughout the Western U.S. Individual pouches are also availableat several restaurant chains including Arby's, Shari's, and Sonic Drive-Ins. They're even available when traveling on Alaska Airlines.
"Early responses from both consumers and retailers have been great," says Godfrey. "Pouches havebeen a huge hit with parents over the past few years due to their convenience, but many are aware of images shared on social media of package failures resulting in moldy contents. With the introduction of the first clear applesauce pouch, Tree Top is giving peace of mind that what's being consumed is just good food."
Looking ahead, Godfrey says Tree Top is always looking for new ways to innovate in fruit products. If the clear stand-up pouch is any indication, the company's future packaging will be worth the wait.
Companies in this article