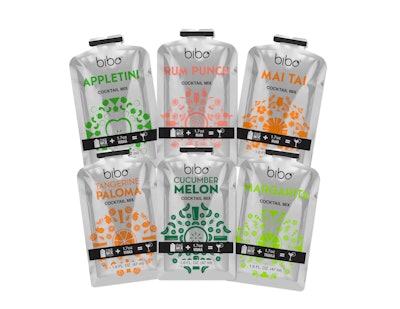 Bemis Co. developed the innovative packaging film technology that, in tandem with equipment at co-packer T.H.E.M. (www.them.net), provides a pouch that is puncture-resistant and meets Bibo's requirements for burst values, shelf-life, portability, and convenience. Bemis describes the roll-fed packaging material as a multilayer adhesive lamination that includes foil for barrier purposes as well as a reverse-printed polyester and a special heat-seal blend. The printing is done flexographically in four colors. T.H.E.M. uses a Sanko (www.sanko-thai.com) FR3 continuous-motion pouching system to produce the 1.6-oz pouches.

Bibo president and CEO Debra Walker reached out to Bemis in 2016 with her vision. "Bemis had a unique set of skills and capabilities, offering exactly what we needed, even when we pushed the boundaries to unknown territory by wanting a single-serve pouch system for alcohol pouches as well as our mixers," she says.

Steve Belko, Vice President at T.H.E.M., cites the collaboration between partners as the recipe for success. "This exciting project illustrates the function of our Commercialization Development Center," says Belko. "Brand owners and supply chain elements need a reliable bridge to accelerate the validation and scale up process, especially with new technology and innovation."

"Bemis is uniquely positioned to provide high-value-add film solutions that meet the critical quality requirements of this project. We were able to bring together multiple technology solutions to create a durable film that provides excellent product compatibility, and extended shelf-life to meet consumer demands for portability and ease of use while at home or on-the-go," says Bemis Associate Market Manager Peter Wright.

Bibo's product was developed in response to modern consumers' demands for convenience and single-serve options. The Bibo system of mixer and alcohol pouches allows the host to offer a wide variety of options without the expense of purchasing full-size bottles of multiple flavors. Guests enjoy the fun of mixing their own specialty drink easily and with perfect results, and hosts can focus on socializing instead of bartending.

Similar to the way that single-serve brewing stations have revolutionized how coffee drinkers get their morning fix, the Bibo Barmaid system has transformed the category for the home cocktail market and "aspiring mixologists." The mix and alcohol pouches simply set into the machine, no hand-cutting or opening is required.
Companies in this article