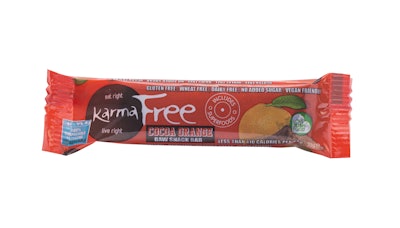 Composting—both home and industrial—is a fairly common practice in Ireland. Therefore, when Shanvalley Innovative Food Company of County Mayo, Ireland, recently introduced its snack bars in compostable packaging, it was a win on two fronts: Not only does the wrapper biologically decompose within 180 days, but it is also constructed of bio-based materials.
Launched in June 2017, Shanvalley's new Karma Free and Karma Elevate products are cold-pressed fruit and nut bars made from natural ingredients with no added sugar. In September 2016, the company approached film supplier TIPA to create a film wrapper for the bars that would offer the same end-of-life organic waste properties as its products.
Explains TIPA Vice President of Business Development Julia Schifter, "Shanvalley required the standard barrier, shelf life, etc. properties for packaging granola bars and was interested in a compostable wrapper instead of a conventional non-recyclableplastic wrapper. In essence, they didn't want to compromise on the performanceof the package while using the novel bio-based and fully compostable package by TIPA."
While TIPA declined to specify the exact composition of its films, Schifter says the wrapper for the Karma Free and Karma Elevate bars is a multilayer laminate made from a blend of different compostable polymers and includes a printing layer, a barrier layer, and a sealing layer. "This structure was chosen to provide all the performance properties required by Shanvalley, including barrier, printability, good sealing, machinability on horizontal form/fill/seal packaging machines, and a general look and feel that is similar to conventional plastics," she says.
The wrapper is printed on a conventional flexo press and uses compostable inks and adhesive, making it fully compostable as tested and certified according to the European Directive 94/62/EC for packaging and packaging waste, EN 13432. The EN 13432 standard requires that all the packaging materials not only decompose and biodegrade within 180 days, but also contain no heavy metals or toxic materials as residue that may harm the soil.
According to Shanvalley founder and co-owner Declan Gannon, when Karma Free and Karma Elevate were introduced at Dublin's Bloom gardening festival, "the response was fantastic." He adds, "Visitors really understood the problem with plastic and the benefits of having a compostable wrapper.
"The move to TIPA's flexible, durable, and biodegradable films further extends our brand promise to 'Eat Right – Live Right.' It has helped us become the 250th company to achieve Origin Green accreditation for our sustainable practices, as backed by the Irish food board, Bord Bia. Making sure our products are socially and environmentally responsible is of utmost importance to the brand, and TIPA's films enable us to achieve this."
Karma Free and Karma Elevate bars are currently being rolled out to stores across Ireland, including cafes, symbol stores (suppliers to independent grocers, small supermarkets, and produce stores), health food stores, and supermarket chain SuperValu.
Companies in this article