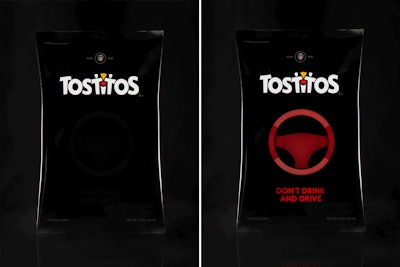 Tostitos tortilla chips are all about the party. The popular snack food from Frito-Lay can often be found at the center of social gatherings. For the 2017 Super Bowl, Tostitos was all about keeping the party safe as well. The brand's limited-edition 2-oz Party Safe bag, designed by advertising agency Goodby Silverstein & Partners, used smart technology to remind football fans not to drink and drive after the party. It also gave them a way to get home safely if they had imbibed too much.
Unlike Tostitos' typical brightly colored background, the Party Safe bag was black, with a sensor near the top and the instructions "blow here." The sensor was connected to a microcontroller calibrated to detect small traces of alcohol on a person's breath. When any trace was detected, LEDs in the bag would turn red and form a steering wheel, revealing an Uber code and a "Don't drink and drive" message. Using NFC technology, fans could then touch the bag with their phone to call for a free Uber ride. If no alcohol was present, a green steering wheel would be revealed. In "standby" mode, the steering wheel was blue.
Ensuring that even those who were not lucky enough to pick up one of the limited-edition bags could still get home safely, Tostitos also partnered with Mothers Against Drunk Driving (MADD) to offer party-goers $10 off an Uber ride on Super Bowl Sunday, Feb. 5, 2017, by using the barcode on the back of nearly every bag of Tostitos chips. The offer applied to both new and existing customers of Uber, but was limited to the first 25,000 users who entered the code.
Upon announcing the Party Safe bag promotion, Frito-Lay Chief Marketing Officer Jennifer Saenz said, "Our goal is to remove 25,000 cars from the roads that Sunday evening. Whether watching the big game at a friend's house or at a local bar, a safe ride home is just a few, easy taps away. By simply entering a participating Tostitos UPC code in the Uber app, fans nationwide can receive $10 off an Uber ride."
"Having a good time and being safe go hand in hand," said Delanie Walker, professional football Tight End and MADD volunteer, whose aunt and uncle were killed by a drunk driver after watching him play in the 2013 Super Bowl. "Drunk driving is 100 percent preventable. Thanks to Tostitos and Uber, it's easier than ever to make a safe choice if your plans include alcohol."
Companies in this article